Elevate your conference experience to new heights at Peppers Noosa Resort & Villas, where impeccable facilities meet coastal sophistication, giving the perfect fusion of business and pleasure.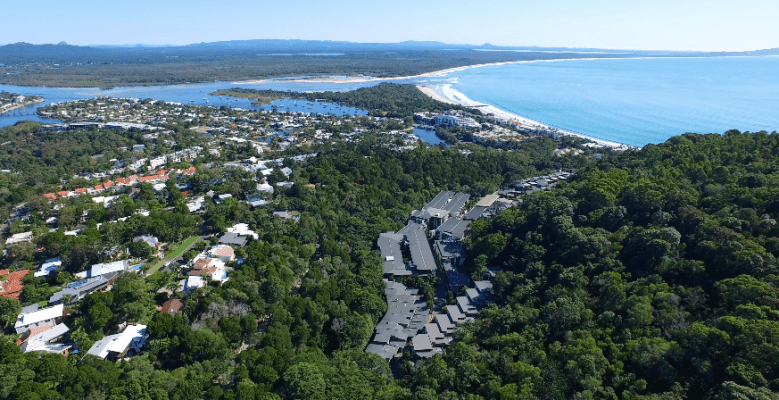 Nestled in the heart of the UNESCO-designated Noosa Biosphere on the Sunshine Coast, Peppers Noosa Resort & Villas offers one of the largest conference and events spaces in the region, making it a premier events destination.
Whether you're planning a corporate retreat, lavish gala event, or industry conference, this luxurious and eco-minded resort provides the perfect blend of world-class facilities, stunning natural surroundings, and impeccable service to make your event truly unforgettable.
"As one of the largest conference and event venues on the Sunshine Coast, we are thrilled to reward our clients with experiences they can enjoy at their leisure," Peppers Noosa Resort & Villas general manager, Scott Freund says.
Exceptional facilities and outstanding service
Peppers Noosa Resort & Villas offers a diverse range of versatile indoor and outdoor spaces that can be tailored to accommodate everything from intimate gatherings to large-scale conferences, catering for up to 1,000 cocktail.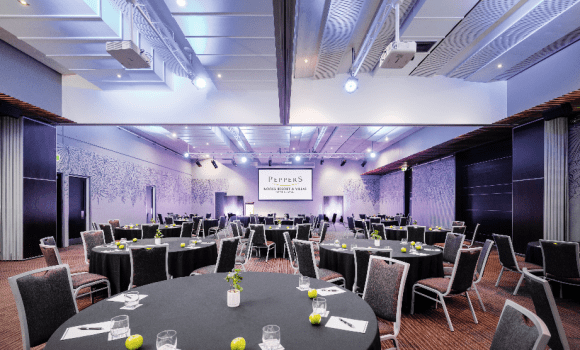 Some of the resort's unique spaces include a private boardroom, an expansive pre-function terrace, and an 87-seat theatrette, while the pillar-less main conference space can be used as a large standalone space or divided into up to three individual spaces for separate events. There are also several smaller meeting rooms which are great for workshops, group breakouts and meetings.
In addition to these main event spaces, the property also offers a selection of private dining rooms, outdoor terraces, and landscaped gardens, providing versatile options for a variety of event styles and sizes.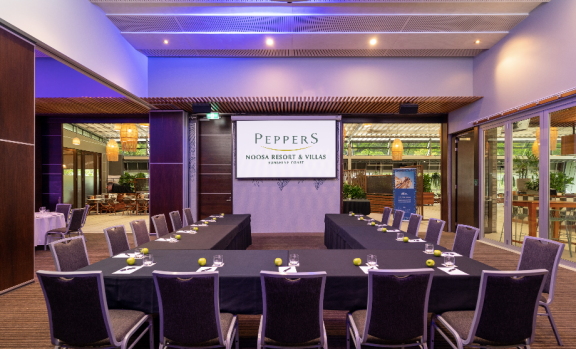 Each event space at Peppers Noosa Resort & Villas is meticulously designed and equipped with advanced audio-visual technology, high-speed internet connectivity, and professional lighting systems, ensuring that presentations, speeches, and performances are flawlessly executed.
The resort's dedicated event team will work closely with you to customise the setup, decor, and seating arrangements, creating an atmosphere that aligns with your event's objectives and themes. The team's attention to detail, creative expertise and commitment to excellence ensures a seamless experience every step of the way.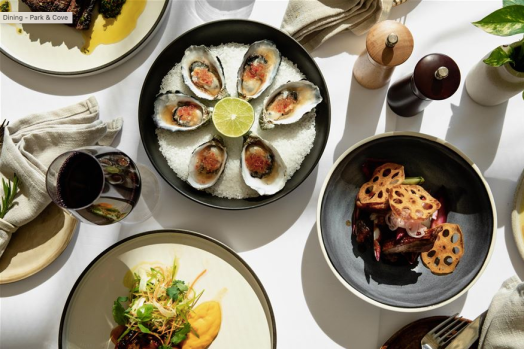 Another highlight is the exquisite culinary experience, which indulges guests in the flavours of the region with the finest local produce. The resort's expert culinary team can curate bespoke menus to cater to specific dietary requirements and preferences, ensuring that every guest's palate is satisfied.
Set within the canopy of Noosa's abundant treetops at the meeting of land and sea, Park & Cove, our on-site restaurant, is where locals gather, drink and dine.
The ultimate escape
Peppers Noosa Resort & Villas provides a luxurious retreat for event attendees with a selection of elegantly appointed rooms, suites, and villas. With plush furnishings, private balconies, and modern amenities, guests can unwind and rejuvenate after a productive day.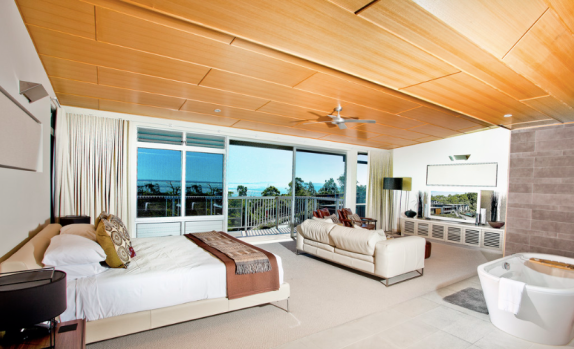 When staying at Peppers Noosa Resort & Villas, guests can also enjoy the resort's gym and steam room, heated lagoon pool, 25-metre lap pool, room service, complimentary parking, 24-hour reception, and award-winning Stephanies Ocean Spa, which also offers exclusive conference packages.
Situated only a short stroll away from the iconic Noosa Main Beach, Laguna Beach and the lush Noosa National Park, Peppers Noosa Resort & Villas provides a picturesque backdrop for your event.
The resort's stunning tropical gardens, lagoon-style pools, and tranquil waterways create a serene and inspiring atmosphere that will enhance productivity and leave a lasting impression on attendees.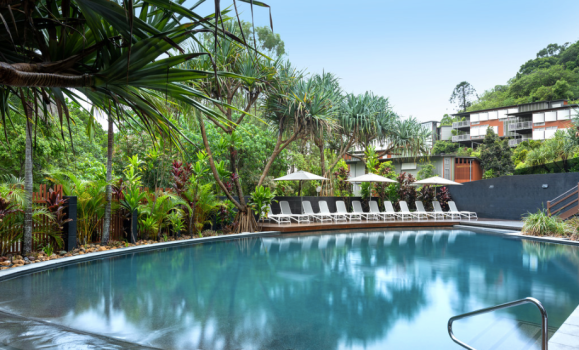 Whether it's a morning yoga session by the pool or an evening cocktail reception overlooking the breathtaking sunset, the natural beauty of Noosa adds an extra touch of magic to any event.
The stunning coastal location provides countless opportunities for team-building activities such as beachside games, coastal hikes, and water sports.
A commitment to sustainability
Peppers Noosa Resort & Villas has a strong focus commitment to eco-conscious practices which sets it apart as a responsible choice for those seeking environmentally friendly venues. With a range of initiatives in place, Peppers Noosa strives to protect the local ecosystem, support community projects, and minimise its ecological footprint.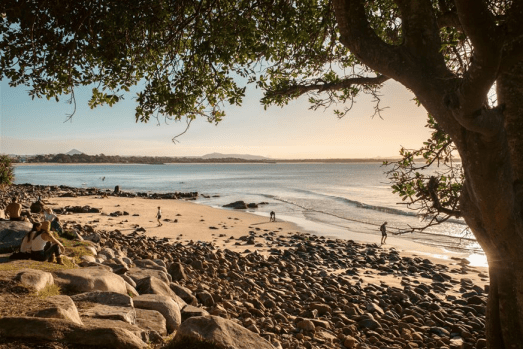 One of the resort's sustainability initiatives is its contribution to the Noosa & District Landcare's Noosa Koala Habitat Recovery Project, where $1 is donated from every day delegate package sold to support important conservation efforts for the region's wildlife and natural heritage.
In efforts to reduce waste and prioritise sustainable food practices, Peppers Noosa sources ingredients from local and ethical suppliers and ensures only sustainably caught or farmed seafood is used. The resort also sends its kitchen waste to a commercial composting and worm farm instead of having it end up in landfill.
Peppers Noosa Resort & Villas is also a proud member of Slow Food Noosa, Plastic Free Noosa, and Noosa Trees for Tourism, actively promoting a plastic-free food and beverage operation and supporting initiatives that enhance the region's sustainability efforts.
Holding your event at Peppers Noosa Resort & Villas means not only experiencing exceptional service amidst breathtaking surroundings but also contributing to the preservation of the region's natural wonders for generations to come.
Book your next event at Peppers Noosa Resort & Villas with these unbeatable offers!
Whether you're looking to inspire creativity, foster collaboration, or celebrate milestones, Peppers Noosa ensures that your event will be an extraordinary experience that lingers in the memories of attendees long after they depart from this stunning coastal location.
As a thank you for booking your next event over $140,000 at Peppers Noosa Resort & Villas, we will reward you with 5 nights at Peppers Beacon, Queenstown, in a Two Bedroom Lake View Apartment, with breakfast. This great offer also includes a $2,500 Qantas flight voucher, winery tour for four, PLUS $750 resort credit.
Spend $40,000 on your next event at Peppers Noosa Resort & Villas and be entered into the draw to win a three-night stay at Peppers Beach Club and Spa, Palm Cove, in a One Bedroom Ocean Spa Room. You'll also get a $1,500 Qantas flight voucher, PLUS $1,000 resort credit.
For more information on how you can inspire creativity, foster collaboration, or celebrate your team's milestones, contact the Peppers Noosa Resort & Villas team today at noosa.events@peppers.com.au or call +61 7 5455 2200.