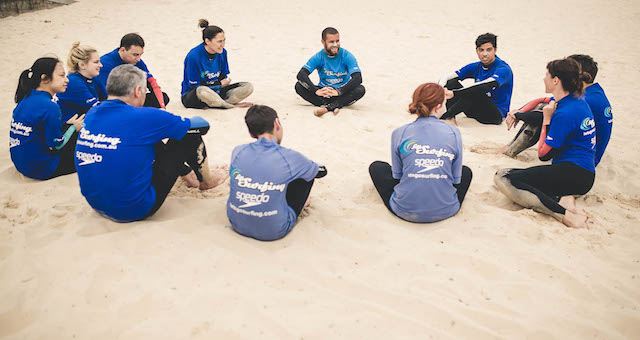 Lets Go Surfing has achieved Ecotourism Certification for its Surf and SUP schools with Ecotourism Australia.
The ECO Certification program assures groups that certified products are backed by a strong, well-managed commitment to sustainable practices and provides high-quality nature-based tourism experiences.
Environmental goals are achieved through positive changes in their daily operations including getting rid of plastic bags, using environmentally-friendly wetsuit washing products, working with third party suppliers to minimise plastic usage, receiving surfboards and wetsuits in biodegradable packaging, choosing lower emission vehicles, limiting water usage, recycling in all of their locations, providing all team members with reusable water bottles and coffee cups and organising environmental talks with student groups.
Brenda Miley started Lets Go Surfing out of the back of a Kombi van on Bondi Beach in 1995 as an idea to encourage more women into surfing.
In the years since, the team has grown to help thousands of people from all over the world learn to surf, developing confidence, focus and strength and most importantly – have fun.
"Lets Go Surfing understands the importance of looking after our environment.
"We live, work and play in the ocean, therefore we want to do everything in our power to preserve its beauty. Whether our feet are on the sand, on a board or in the office, our eyes are fixed on the horizon to ensure the future is bright for the next generation," the company said in a statement.
"As surfers, our life revolves around the ocean. We love the water and our amazing beaches, so it is extremely important that we respect and cherish our environment. We are so lucky to have such caring and passionate environmental warriors on our team who lead us on our 'leave only footprints' mission," said Lets Go Surfing General Manager Craig "Wacca" Wachholz.