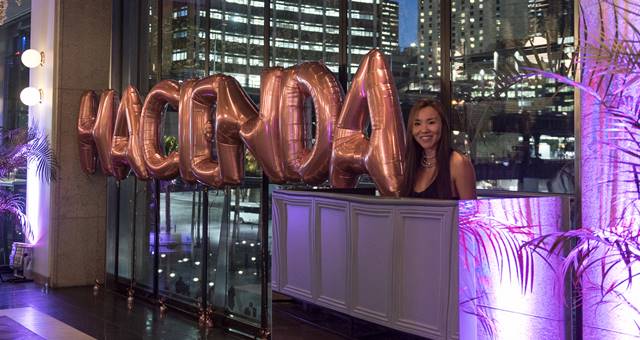 Last night marked vista bar Hacienda Sydney's very first birthday.
The cocktail-styled event was attended by 200 guests including top media, influencers and celebrities.
Guests were welcomed on arrival with one of the bars signature cocktails, Cayo Coco Colada – blanco rum, lime, coconut cream, mango sorbet and fresh pineapple.
With spectacular views across Sydney Harbour, guests also sipped on a premium selection of wine and beer throughout the night.
Executive Chef Stefan Brademann is at the helm of the kitchen, and chose the celebration last night to give guests an exclusive taste of some of the brand-new items from his new menu which launches to the general public today.
Inspired by Cuba's traditional trading partners and their local, abundant ingredients, Stefan creates dishes unique to Hacienda.
Showcasing a selection of the new dishes from the full menu guests enjoyed Latin and American delights such as Oyster ceviche; Prawn cigars; selection of poke bowls; chorizo, pineapple and jalapeno skewers; vacca fritta; sliders and Miami cheese dogs.
For dessert, guests indulged in sweet treats such as Portuguese tarts and chocolate crunch.
For more images and highlights head over to the Spice facebook page.