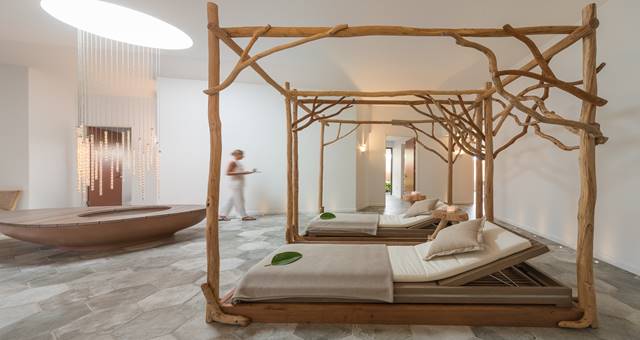 Elements of Byron resort has received a Sustainability Award from the Australian Institute of Architects, Queensland Chapter, in recognition of their approach to development across the fifty acre absolute beachfront site.
"It's a very sensitively handled and a very hard project," noted Alice Hampson, State Chair of Juries. "It was a very contentious site". Elements of Byron also won a Commendation in the Commercial Category at the Architecture Awards.
Despite the Award, you won't see the resort use the "eco" tag so often attributed to the property. "We don't call ourselves an eco resort" said Development Director Jeremy Holmes. "We provide a nature based retreat for today's inspired traveller. The journey toward sustainability is never ending".
Elements of Byron was also recognised at the recent Qantas Business Travel Awards, taking the "Best Large Scale Corporate Retreat in Australia Award". The property was commended for "mixing a five star veneer with heart and soul".
The resort's October Relaunch will see a dozen new and revamped leisure areas including a new adult only heated 25 metre pool with swim up bar, timber adventure playground for the young and young at heart and new lounge areas on timber decking around the central infinity lagoon pool.
At the same time a suite of luxury two bedroom modern holiday villas will open in an entirely new section of the property surrounded by forest and creek. At 111m2 these homes away from home – with outdoor bathrooms and decks with fireplaces – take forest bathing to a whole new level.
110,000 new native trees and plants are currently being installed around the new cottages to complement existing mature trees, bringing the total new plantings to 175,000. Surprise recreation areas include picnic tables, a giant chess set and bocce rink surrounded by melaleuca and red gum. "One of my favourites is a massive fig tree with hanging chairs and festoon lighting" said Holmes. "It will be a really cool night time scene".
With the new additions the building footprint across the site will be only 3.8%, or less than 10% of the developable area. "Peggy's brief from day one was for nature to be the dominant experience" said Holmes. "That is what we offer here, a luxurious and somewhat whimsical experience of the elements".