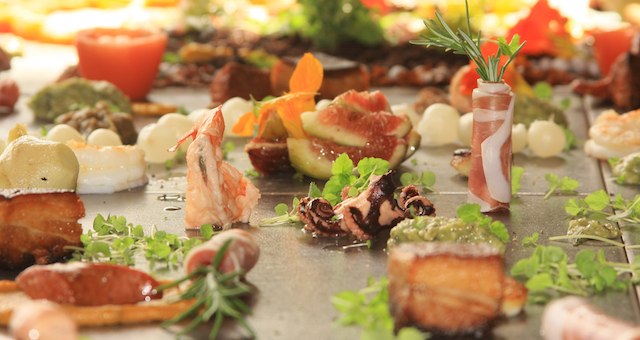 Kingfisher Bay Resort has introduced a new dining concept that combines theatre with culinary education.
Food presentation has never been more sophisticated than it is now. With foams, dusts, freeze drying and micro herbs, meal presentation is a work of art as well as practicality.
Executive chef Leigh Sanders from Kingfisher Bay Resort has taken this a step further with his new Edible Garden concept wherein guests sit down to a table that is set with a central decorative – and entirely edible – food art work that is built on slate. A team of chefs then add to this while explaining what the ingredients are, where they come from and how they're prepared.
The concept also draws on dry ice and fire to enhance aspects of the dishes that include kangaroo, scallops, prawns, pork belly, breads, sauces, antipasto and herbs.
The Edible Table can cater for 6 – 60 people. One 'canvas' includes entrée and main, while a second 'canvas' can be prepared for dessert.