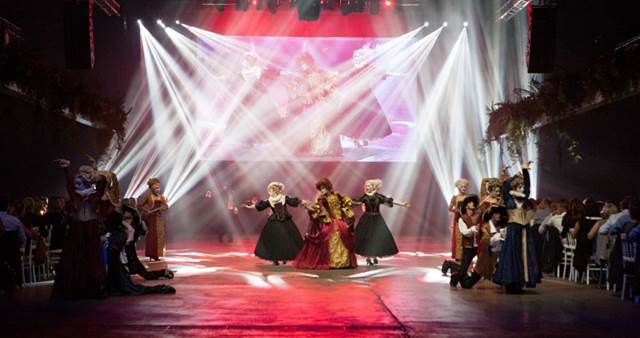 When conceptualising the 2014 BBC Showcase, The Corporate Method used the word 'grand' as the inspiration for the evening.
The dressed venue – The Royal Hall of Industries – was revealed to guests with a kabuki drop following a musical crescendo.
Two long tables were themed 'The Musketeers' with crystal and china, gold-dipped feathers and candelabras. A custom menu was created by the team at Cook and Waiter and the plating was co-ordinated by Stedmans waitstaff. Candelabras were lit in perfect formation once guests were seated.  Bespoke floral chandeliers created by Simone Gooch of Fijura were suspended above the full run of the tables.
The evening was hosted by Neil Oliver from the BBC documentary series Coast who introduced the re-structured Dr Who video piece which originally featured on Customs House during the Vivid Festival and Ziggy Ziegler designed the additional lighting and sound effects.
Leah Howard (The Howardnation) choreographed a dance routine, catwalk style, between the tables. The piece opened with a solo singer that lead into the main performance created to reflect two of the new shows, Peaky Blinders and The Musketeers, premiering on BBC First when it launches in Australia on August 1.