Integrating social media into a living, breathing real-time event has the power to significantly boost your event's return on investment.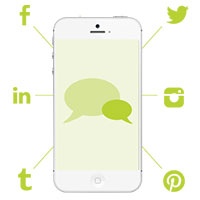 A leader in the integration of social media into live events, Staging Connections has launched two products, Event Tweet and Event Poll which have been proven in boosting event social interaction.
A vertically integrated social media strategy based around a live event can provide real R.O.I. before, during and a long time after the fact. Having a social media strategy is essential to ensure you are connecting with the right people, on the right channels at the right time.
Here are 12 steps for your next event's social media success:
Choose the social media channels that suit your audience
2. Start the event promotion early
3. Create shareable content
4. Designate a hashtag and promote it across all event collateral
5. Avoid 'post it once, post it everywhere' cross-platform services
6. Post at the right time of day
7. Be active (very active) during the event
Event Tweet [http://www.stagingconnections.com/event-tweet] is a software solution that allows you to capture your in room and virtual audiences' tweets and Instagram posts through a dedicated hashtag and send them live to screen on a choice of templates to suit your brand.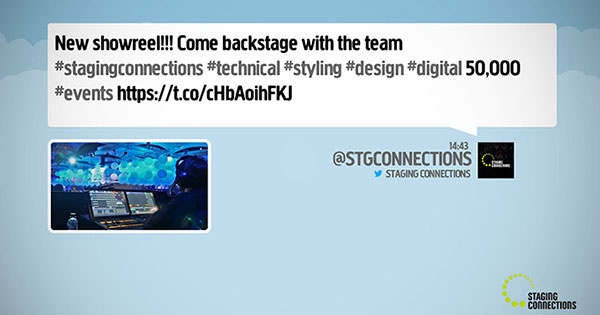 A lively event Twitter feed displayed on screens in the venue encourages audience participation, but it also gives those who didn't attend a tantalising glimpse of what they're missing out on.
Event Poll [http://www.stagingconnections.com/event-poll] allows in-room and virtual audiences to participate in live polls at the event using their own devices. Ask your audience questions which are displayed on screen by the presenter and the audience can vote via SMS or via a webpage. Results can be shown live on screen and fed through to your social media channels.
What event should I use Event Poll for?
8. Moderate the live content
9. Remember your audience is participating via mobile devices; make it easy for them. If you have an app for your event, ensure that you promote it in all pre-show communication
10. Capture and share the live event via short videos
11. Post event, the content you have created is a powerful marketing tool for the next event
12. Start the next year's event promotion early with your social community
Staging Connections can work with you to extend the power and reach of your event through social media integration.
Learn more about the 12 steps to event social media success: http://www.stagingconnections.com/events/12-steps-to-event-social-media-success
www.stagingconnections.com
1800 209 099
info@stagingconnections.com