What's hot and what's not in the world of events right now.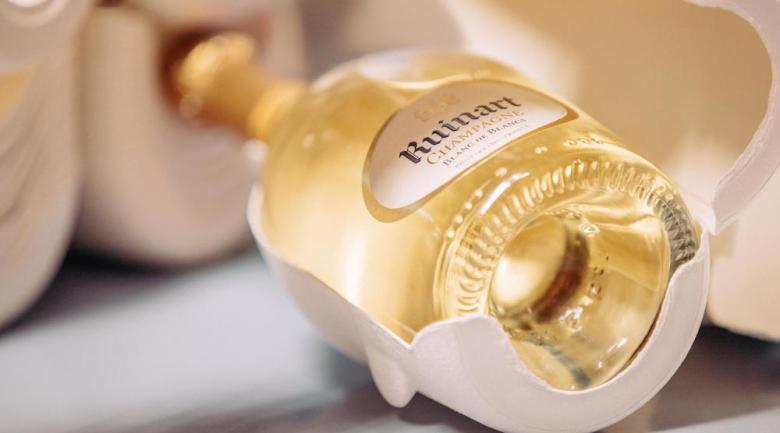 Ruinart Second Skin packaging, part the sustainable luxury movement
This season, sustainability and virtual events remain high on the trends list for event professionals, while poorly designed hotel rooms remain one of the biggest pet peeves for business travellers.
Going up
Sustainable luxury
Luxury Champagne house Maison Ruinart has spent more than three years developing a 100 per cent recyclable, eco-designed casing to replace single bottle gift boxes. Made with light-weight paper from sustainably managed European forests, the elegant Second Skin packaging reduces the brand's carbon footprint by 60 per cent.
Virtual events with a personal touch
The virtual events that come to mind from the past 18 months are the ones with a personal touch. Take Canberra Convention Bureau for example, who delivered local produce boxes to delegates prior to their virtual showcase, inviting them to take part in a live food masterclass with Pialligo Estate.
Travel bubbles
We're so excited to once again be able to travel across the ditch, thanks to the opening of Australia-New Zealand travel. We can't wait to see which countries join the bubble next!
Going down
Weak attempts at sustainability
We're all for hotels and venues having a strong sustainability mission, but it's no use claiming to be environmentally friendly and then having plastic water bottles on the table or by the bed. Venues need to think about all aspects of sustainability before making any grand statements.
Hotels with no USB ports
Easy-to-reach USB ports, or at least power sockets, are a nonnegotiable for hotel guests in 2021. Older hotels can solve the issue by installing alarm clocks fitted with USB ports or bedside lamps with built-in wireless chargers.
Cocktail events with limited tables
When hosting a cocktail-style lunch or dinner, think about where guests will be eating their meals – have you provided enough space for guests to rest their plates and drinks? While it might seem obvious, this one happens a lot.
---
This article was originally published in the Winter issue of Spice Magazine.
Read the digital issue below, or subscribe to receive future print issues.