With a venue of mega proportions comes a responsibility to make a big impact, beyond economic contribution.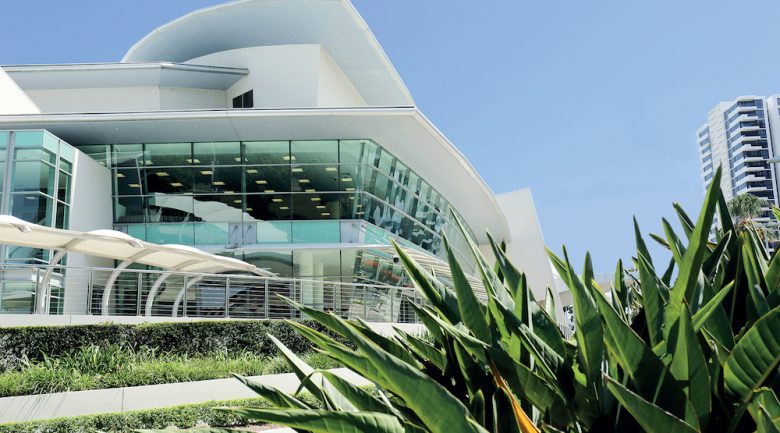 Gold Coast Convention and Exhibition Centre
From all-encompassing conference and exhibition centres to world-leading stadiums, Australia's mega venues play a major role in attracting and delivering business events from all over the world.
While their economic impact is indisputable, there's also a lot to be said about the wider impact these venues have on their local communities and cities.
Whether it's through sustainable practices, community outreach or creating a legacy, these venues are doing their bit to make sure their impact is a positive one.
Inclusive experiences in mega venues

Village Roadshow Theme Parks (VRTP) encompasses a range of attractions and venues on Queensland's Gold Coast, including Warner Bros. Movie World, Sea World, Wet'n'Wild, Australian Outback Spectacular and Topgolf.
With thousands of visitors and event delegates coming through the gates every day, VRTP is committed to ensuring all guests have a memorable experience at their venues.
"Village Roadshow Theme Parks is proud of our commitment to the community by providing an environment where organisations can bring sick, disabled and underprivileged groups to escape from their day-to-day troubles," says VRTP head of conferences and events Caroline Duveau-Clayton.
"At Village Roadshow Theme Parks, we create joy and memories that last lifetimes and our goal is to ensure we do everything we can so as many people as possible can have an unforgettable experience with us."
The venues also have ongoing partnerships with local charities, such as Starlight Foundation and food rescue organisation Soul Centre Pantry.
"At Movie World, we have partnered with the Soul Centre Pantry to donate around 20 to 50 fresh food items per day to the less fortunate," says Duveau-Clayton.
A culture of sustainability
When Adelaide Convention Centre (ACC) unveiled its $397 million redevelopment in August 2017, the transformed venue was hailed a "new breed" of convention centre.
A key priority of the redevelopment was to ensure sustainable elements were integrated throughout the design.
As a result, the venue now features leading energy management and lighting systems that deliver 27 per cent lower energy consumption than the original building. The centre's roof was also designed to collect rainwater and channel it into the River Torrens.
In 2018, ACC and Gold Coast Convention and Exhibition Centre (GCCEC) became the first venues in the world to achieve EarthCheck Platinum Certification, which recognises 10 consecutive years of best practice in sustainability.
ACC general manager Simon Burgess says sustainability is a key focus for the centre and its culture.
"It's particularly thrilling to achieve EarthCheck Platinum Certification at a time when sustainability and the 'war on waste' is such a topical conversation."
The centre continues its war on waste commitment by using fully biodegradable and compostable cups and lids for beverages and has 'bio bins' across the venue to keep the vessels out of landfill. It also recently joined the movement to become a plastic straw-free venue.
The EarthCheck Platinum Certification was a welcome recognition for GCCEC, which has been implementing sustainable practices since its opening 15 years ago.
GCCEC general manager Adrienne Readings says in the opening years, the centre was determined to create a sustainability culture rather than a single program.
"Right back in the very beginning, we began the journey to make sustainability part of the culture," she says.
Sustainability is central to all facets of the business, from waste management and electricity through to food and beverage.
"We ensure 85 per cent of our produce comes from local growers within a short radius of the centre, so we're able to measure our carbon footprint," says Readings.
The centre also partners with local suppliers to recycle and repurpose event equipment, such as banners.
"We have a local manufacturer on the Gold Coast who turns banners into beach bags and they're given as gifts to clients, so there's as little waste as possible," she says.
Community outreach
Community outreach programs are another way Australia's mega venues give back to the communities they reside in.
GCCEC has a long-standing partnership with Act for Kids, an Australian charity that works to prevent and treat child abuse and neglect.
At the end of each year, the centre brings local businesses together for its Build a Bike fundraiser, which sees participants build bicycles to be donated to children through Act for Kids. Readings says the charity is "near and dear" to the team's heart.
"A bike represents a little bit of freedom – it's not just about giving them a new bike, there's some real thought behind what bikes do psychologically for kids that are going through things that we just couldn't imagine," she says.
Lasting legacy
Business events have the potential to create lasting legacies for venues and destinations. Just weeks after ACC unveiled its transformation it played host to the 68th International Astronautical Congress (IAC).
"IAC was not only a win for the centre, but our city at large, proving that Adelaide has the capacity and expertise to host complex, large-scale events," says Burgess.
The event, which featured billionaire entrepreneur Elon Musk on the speaker program, paved the way for the launch of the Australian Space Agency, based in Adelaide.
"Plans for the agency were first announced by the Federal Government at the congress," says Burgess.
"It's one of a number of lasting legacies from IAC, which has really placed a spotlight on Adelaide's strengths in space and defence."
Michael Davis, former chair of the Space Industry Association of Australia, says there is "no question" the congress provided the catalyst for the establishment of an Australian Space Agency.
"It is safe to say that, had there been no congress, this decision would have been very unlikely," he says.
Mega venues across the country are thinking beyond economic impact to ensure their influence on people, the environment and destinations is positive and long-lasting.
This article originally appeared in the Spring issue of Spice Magazine.
Subscribe to receive future issues here.