Last minute tickets are still available - get yours today and come join us for an exciting day!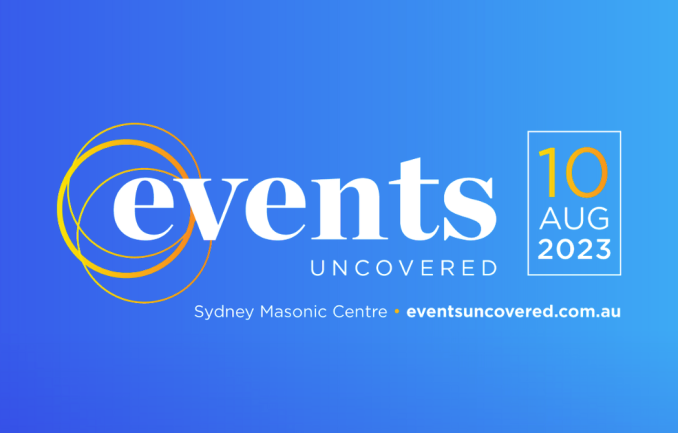 The business events industry is coming together today for Events Uncovered, the annual boutique exhibition and conference for event planners.
Taking place at Sydney Masonic Centre (SMC), this year's show will provide inspiration and knowledge to attendees with a full-day program of thought-provoking speaker panels running alongside the free-to-attend showcase and wrapping up with a networking party that promises plenty of surprises.
Exploring the themes of creativity, wellness, inclusivity and human connection, this year's Spice Knowledge Sessions features a distinguished group of experts, thought leaders, and innovators who are at the forefront of the dynamic and ever-evolving landscape of business events.
An industry update panel will kick off the Spice Knowledge Sessions program, with Robin Mack (Tourism Australia and Business Events Australia), Matt Pearce (Talk2Media & Events, ABEA), Kristian Nicholls (Business Events Sydney), and Simone Seiler (FCM Meetings & Events).
Other speakers include Cliftons CEO Vanessa Green; Bambuddha Group CEO, Anna Sheppard; Sprintr Director of Business and Innovation; KARI Foundations COO, Cain Slater; AV1 Creative Director, Kai Raisbeck; Club Med – Pacific Markets General Manager, Michelle Davies; and many more.
Meanwhile, the exhibition is on from 10am – 6pm and will feature some of the industry's top venues and suppliers, including Accor, D PLUS D Events, Sprintr, Rentertainment, Events by Merivale, Visit Sunshine Coast, Dorsett Gold Coast, Museum of Contemporary Art, and many more.
This exciting event will conclude with a Wrap Party where attendees and exhibitors can network together and toast to a great day.
Whether you're an industry veteran or a newcomer seeking to unravel the complexities of event management, Events Uncovered is your compass to navigate the ever-evolving realm of business events.
Last minute tickets are still available – get yours now and come join us!