Venues across Australia are continuing to report strong events and conference bookings despite corporate wallets being tightened and travel being restricted by corporates.
By James Wilkinson
Venues across Australia are continuing to report strong events and conference bookings despite corporate wallets being tightened and travel being restricted by corporates.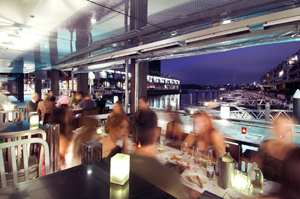 Sydney's Firefly is reporting strong bookings
From hotels to bars, restaurants to resorts, the industry remains strong, with the major challenge being lead times for bookings.
According to InterContinental Hotel Group chief development officer – Asia-Pacific, Tony South, many companies are still holding major conferences and events, but closer to home.
"In the short term, we're seeing both business and leisure travellers forego long-haul over short-haul destinations and the MICE sector is the perfect example of this behaviour," he said at last week's New Zealand Hotel Industry Conference in Auckland.
"This is a sector of our industry that appeared to pretty much dissolve when the full extent of the global economic situation became apparent. But speaking to all the major professional meeting planning organisations we deal with, it's not so much a dissolution as a postponement," he said.
"A lot of the meetings and events business that dropped away at the end of last year was put off rather than cancelled altogether, as those companies took a wait and see approach," he said.
The Emporium Hotel in Brisbane is reporting similar trading circumstances.
"We are still capturing both new and old business but have noticed a definite shift in how enquires are made," Emporium Hotel general manager Peter Savoff told SpiceNews.
"There are more enquiries but with a more budget-conscious goal, shopping around and collating more than one quote. This works out well for the hotel as it gives us the opportunity to highlight the its unique design and facilities."
Savoff said the MICE segment was performing well for the Emporium Hotel at present, with figures up significantly on last year.
"Looking at figures from our first quarter in 2008, Emporium Hotel's MICE segment has increased by 45 per cent in 2009," he said. "We are ideally positioned to attract a niche market due to the product we offer and size we cater for. [And] I think that business will continue to grow in the second half of 2009, even with companies focusing on a budget."
In Sydney, restaurants and bars are also maintaining strong bookings in the events sector, particularly with product launches and corporate entertaining on a smaller, more intimate scale.
Daniel Sofo, owner of the two Firefly restaurants in Neutral Bay and Walsh Bay, reported that interest and bookings remain strong.
"Firefly has been and is continuing to be popular place for functions," he said. "We have an abundance of experience in handling an array of different events and have unique spaces with unique styles.
Sofo said the venues are currently offering free venue hire across the board and exclusivity for groups of more than 40 guests for the Walsh Bay location.
"Not many places in Sydney – with stunning water views like we have in Walsh Bay – offer free venue hire space, along with a fine selection of tapas, which is great for groups," he said.
Sofo added that he was confident of events bookings remaining strong throughout 2009, with product launches, work gatherings and anniversaries topping the list of group bookings at present.
"There are still a good number of events rolling through Firefly and we foresee that to continue through to the end of the year," he said.
An hour's drive south of Sydney, the 72-room Craigieburn Resort in Bowral continues to weather the economic storm, with bookings continuing to flow in from Canberra and Sydney.
"The hotel is performing well within the current economic climate and repeat clients contribute largely to that as does the service and charm of the property," said general manager Chris Owen. "We have a newly refurbished conference and functions centre with five meeting rooms with natural light, overlooking landscaped gardens and terraces with an internal courtyard catering from two to 200 people.
Owen added that the resort is offering a number of specials to coincide with the new-look conference facilities. "Special MICE market offers include complimentary room upgrades, a secretariat room and complimentary golf for the delegates on Craigieburn's private 9-hole course," he said.