The hotel will draw inspiration from the colours, flavours and characters of its neighbourhood.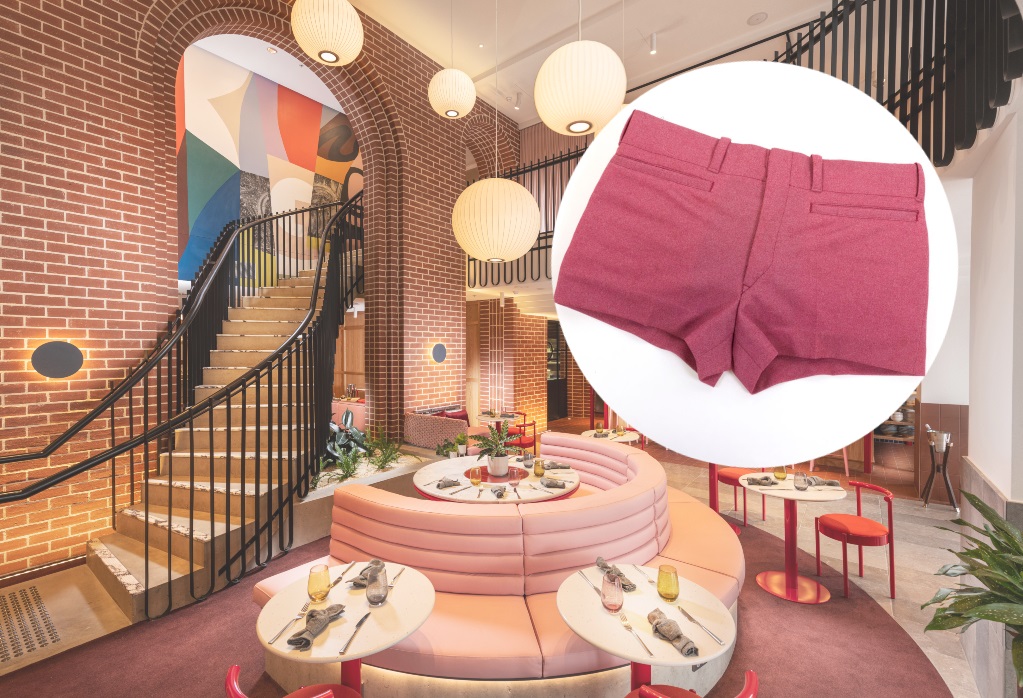 A famous pink shorts moment is celebrated throughout the hotel's interiors. Image credit: The Centre of Democracy and IHG Hotels & Resorts
In 1972, the South Australian Premier of the day, Don Dunstan, stood proudly outside Parliament House in Adelaide sporting a pair of bright pink short shorts.
It was a grand declaration of diversity and democracy and as the media reported at the time, the Premier "stood out like a beacon in the grey conservative decor of Parliament House". It was a true statement.
Also set to make a statement when it opens on Monday, 1 March 2021, is the brand new Hotel Indigo Adelaide Markets, the first Australian property for IHG Hotels & Resorts' boutique lifestyle brand.
In honour of Dunstan and his flamboyant fashion sense, the 145-room hotel will feature pops of bright pink throughout its interiors and a sense of fun and frivolity within its walls.
"Hotel Indigo has paved its way across the globe as a truly fascinating brand designed to draw inspiration and spark curiosity from the roots of its surrounding neighbourhoods," said general manager Thomas Zinn.
"With our ideal location right next door to the iconic Adelaide Central Market and near the newly renovated Her Majesty's Theatre, Hotel Indigo Adelaide Markets will be the perfect escape for visitors and locals looking for a new way to connect with Adelaide."
Neighbourhood influence
Like all properties under the brand, Hotel Indigo Adelaide Markets will be heavily influenced by its surroundings, in particular the colourful characters and multicultural cuisines found within the famed Adelaide Central Markets next door.
Hotel guests will be spoilt for choice when it comes to drinking and dining options, thanks to the myriad bars, distilleries and restaurants that line the laneways. That's if they make it outside the hotel at all.
Hotel Indigo Adelaide Markets will feature the city's highest rooftop bar, Merrymaker, serving up local seafood, charcuterie and cheeses from an open kitchen, alongside a list of gins, South Australian wines and beers.
On the ground floor, all-day dining venue Market & Meander will dish out signature meals including slow-cooked smoked brisket and free-range chicken prepared on an authentic South American-style parrilla grill. The drinks menu will showcase the region's wines and craft beers, including a bespoke beer created by Goodieson Brewery in McLaren Vale.
Market & Meander is where the pink shorts-inspired colour scheme is in full force, with brightly coloured seating and striking murals.
Meet and stay
For meetings, the open-plan mezzanine floor has two boardrooms, seating up to 14 guests each, while the mezzanine space itself can also host up to 100 guests for cocktail events (reduced COVID capacity may apply). The hotel rooftop can also be booked for private events.
The hotel's 145 oversized rooms and suites will each feature unique design touches, including copper fixtures — a nod to South Australia's copper mining heritage —  and festival-inspired murals by the bedheads.
Each of the 25 suites will boast king-size beds, espresso machines and minibars stocked with local food and drinks, while the 18 premium suites will also feature a private balcony.
Other amenities on offer include a 24/7 fitness centre and a 13-metre outdoor infinity pool.
For locals looking to reacquaint themselves with the city, or interstate travellers seeking a boutique hotel with a point of difference, Hotel Indigo Adelaide Markets is certainly one to add to the 'short' list.