Peppers Kings Square Hotel, a new AUD$40 million 120-room hotel in Perth, has officially opened.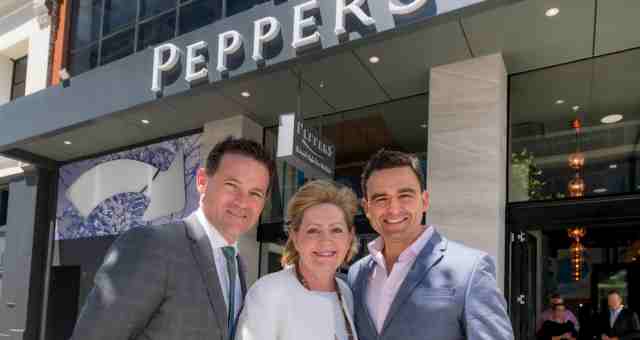 Peppers Kings Square Hotel, a new AUD$40 million 120-room hotel in Perth, was officially opened yesterday (Nov 14).
Doing the opening honours was Lord Mayor of Perth, Councillor Lisa Scaffidi, and in doing so marked the arrival of the stylish and contemporary Peppers brand in Western Australia.
The new-build hotel, which is managed by Mantra Group, was developed in partnership by Mode Development Group and Hickory Building Systems and is Australia's tallest modular hotel.
Located within Perth's dynamic Shafto Lane entertainment precinct, the opening of Peppers Kings Square Hotel reflects the continued expansion and evolution of one of Australia's most trusted hotel brands in highly sought-after CBD locations.
Scaffidi said the opening of Peppers Kings Square Hotel is a further vote of confidence in Perth's growing tourism industry.
"Perth is realising some premium hotel developments like Peppers Kings Square Hotel," she said.
"We've seen significant increases in both domestic and international visitors here in Perth and the continued investment in new hotels is a continued sign of confidence in the city's economy."
Mantra Group Executive Director of Acquisitions, Michael Moret-Lalli, said Perth's hotel market is robust and the introduction of Peppers Kings Square Hotel supports Perth's growing tourism industry.
"The addition of Peppers Kings Square Hotel will play a key role in further elevating Perth's international profile and attractiveness as a key leisure and business destination," he said.
"The hotel is strategically located just 200m from Perth Arena in the city's entertainment and events precinct of the CBD, positioning the property as the signature accommodation choice for event patrons, corporates and leisure travellers."
Mode Development Group Director, Christian Boucousis, said the hotel was designed using cutting-edge construction technology, and always with the guest experience in mind.
"With the help of our valued partners, we've delivered high speed fibre networks, rapid construction methodologies, and in-room entertainment systems that we believe provide not only the best guest experience in Perth, but the best in country," he said.
"We're also very proud of the building's exterior design, which anchors the important junction between Shafto Lane and Wellington Street, and features an incredible light show and waveform façade to activate this gateway."
Ideal for leisure and business travellers, Peppers Kings Square Hotel takes pride of place on Wellington Street in Perth's city centre and is only a short walk to Perth Arena, the CBD, boutique shopping, dining and laneway bar districts.
The hotel boasts a selection of stylish guest rooms, an onsite a la carté restaurant, Stage Kitchen and Bar, serving innovative provincial cuisine typical of West Australia, lounge facilities, concierge with valet parking service, the fastest Wi-Fi connection to be installed in a Perth hotel (complimentary in guest rooms) and a 24 hour reception.
Peppers Kings Square Hotel is the first Peppers property to open in Western Australia for Mantra Group, joining five Mantra hotels across Perth, Geraldton, Bunbury and Broome.
Peppers Kings Square Hotel is offering grand opening special rates starting from $159 per night (Friday to Sunday) or $179 per night (Monday to Thursday) in a Peppers King Room or Peppers Twin Room including an arrival gift from the Chef, two bottles of water, an espresso coffee and free WiFi.