Sydney's Martin Place is set to get outdoor dining.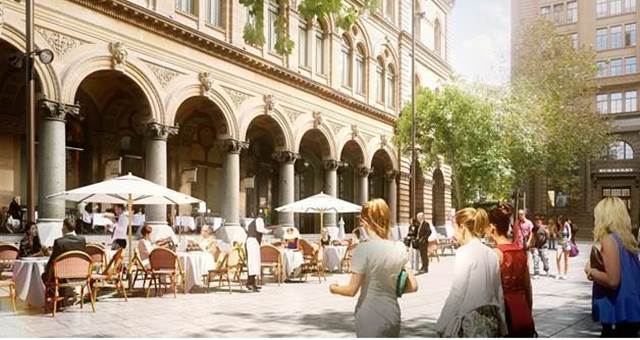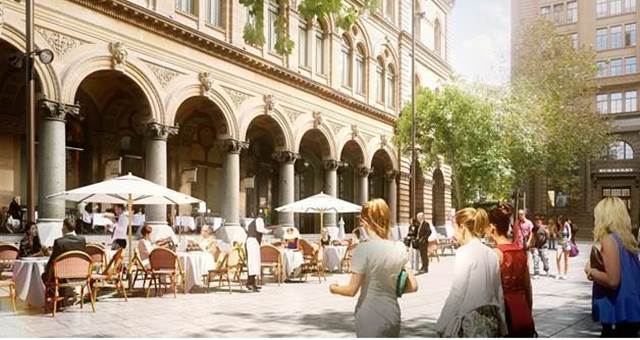 Sydney's Martin Place is set to get outdoor dining.
Extensive improvements planned for Martin Place include, for the first time, outdoor dining under strict conditions between Pitt and George Streets, site of the Word War 1 memorial, the Cenotaph.
The City is inviting public comment on new draft policies designed to improve the look and amenity of the city, including the city north public domain plan that outlines new works to enliven Martin Place and streets running into Alfred Street at Circular Quay in preparation for light rail, and outdoor dining policies to cut red tape and make it easier to introduce outdoor dining by simplifying applications and extending licence periods to help create a more vibrant and active city.
Lord Mayor Clover Moore said the City had been working extensively with Martin Place property owners to rejuvenate the area and bring more life into the CBD.
"Martin Place is Sydney's most popular public plaza with some of the city's finest buildings," said Moore.
"These changes will make Martin Place and the area around the Quay more appealing for the thousands of people who enjoy these busy areas each day.
"The city's continually improving Sydney's streetscapes and with work about to begin on the light rail, it's the right time to upgrade Martin Place and the streets running into Alfred Street at Circular Quay where the light rail ends.
"The city's undergoing a period of rapid change. As well as the light rail, the NSW Government is planning to renew Circular Quay and there are many major private developments in the northern part of the city that are underway or in the wings.
"We want people to spend more time in Martin Place and, if it's approved, this scheme will bring more trees and landscaping, more seating, and for the first time outdoor dining to this great city plaza," she said.
The plans will be placed on exhibition for four weeks and public comments are invited.
For interviews with Lord Mayor Clover Moore, contact Matt Levinson on 0499 319 385 or email mlevinson@cityofsydney.nsw.gov.au