Australia's Great Barrier Reef luxury resort, Hayman, was a winner of five glittering awards at the 2010 National Savour Australia Restaurant and Catering Awards announced last week.
Australia's Great Barrier Reef luxury resort, Hayman, was a winner of five glittering awards at the 2010 National Savour Australia Restaurant & Catering Awards announced last week.
More than 400 hospitality professionals came together at a gala event in Melbourne to celebrate the culinary diversity of Australia with Hayman picking up five awards in the categories of Best Tourism Restaurant, Best European Restaurant, Best Asian Restaurant, Best Corporate Caterer and Best Wedding Caterer.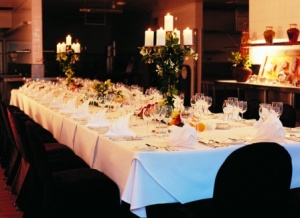 The signature Chef's Table experience at Hayman has become among incentive groups

Hayman's win in the category of Best Tourism Restaurant honours the signature resort dining experience, The Chef's Table, in which guests are taken into the vast Main Kitchen to witness the workings of a focused team of professionals, headed by Executive Chef Glenn Bacon.
The Chef's Table features an 8-course gastronomic feast with each course introduced by Chef Bacon or a Master Chef and the wines personally selected and presented by a Hayman Sommelier and includes a visit to La Fontaine wine cellar and the popular Hayman Chocolate Room.
Named Best European Restaurant, La Fontaine is renowned for its innovative modern European cuisine and creates a sense of grand occasion with a blend of soft and rich tones and subtle lighting amid beautiful furnishings. La Fontaine also offers a stunning Private Dining Room and a cellar housing the resort's impressive collection of premium Australian and international wines.
Hailed Best Asian Restaurant was Oriental, showcasing the finest of Asian delicacies presented by Hayman's chefs in an indoor and outdoor setting amidst beautiful gardens and waterfalls and housing an exquisite Tea House and elevated dining platforms.
Acknowledging Hayman's consistency of quality service in the delivery of specially tailored menus in a range of resort locations, and including themed events for visiting groups, the resort was named Best Corporate Caterer.
One of the most perfect of settings for a union of marriage, Hayman won the category of Best Wedding Caterer, again saluting the wonderful efforts of this acclaimed private island in offering great dining experiences for guests.
Hayman General Manager, Shane Green said each of these awards was recognition of a highly creative and innovative culinary team headed by Chef Bacon, who has already tasted success this year having been Highly Commended in the 2010 HM Awards for Hotel Excellence for his outstanding achievements in culinary presentation and delivery.
"We have an exceptional group of people on Hayman, who are committed to presenting a memorable and enjoyable experience for our guests," Green said.
"Glenn Bacon and the entire kitchen brigade are testament to the dedication and enthusiasm of everyone working and living on the island."
Hayman continues its commitment to resort excellence and, as part of a 5-year masterplan, is currently undertaking a significant upgrade and enhancement program across the resort including the delivery later this year of the first Hayman Private Residence and the opening of stunning new Beach Villas next month (December 2010.)
Hayman is a member of the prestigious organisation, The Leading Hotels of the World. For more information on holding your conference or incentive at Hayman click here.