Three suites have been introduced, each promising a highly experiential stay.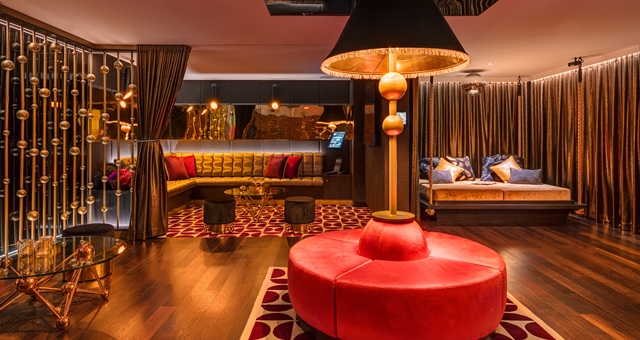 The Star Sydney has launched three immersive spaces to stay and play called 'the Studios at The Star', each with their own unique inspiration.
The development of the Studios has been a passion project of The Star Sydney's General Manager of Hotels, John Autelitano, and he says whether guests step into the sumptuous retro wonderland of the 70s Glam Studio, the sci-fi chic Cyberpunk Studio or thrillingly passionate Dark Romance Studio, their sojourn at the Studios "will take then beyond the here and now, to their very own private playground".
Autelitano says these rooms provide not only luxurious accommodation, but also create an experiential stay. The Dark Romance Studio is a couple's haven whereas the 70s Glam and Cyberpunk Studios offer an unprecedented experience where you can entertain friends, colleagues and family.
Part penthouse, part suite, he says the Studios rise beyond the confines, providing a dash of opulence, attitude and showbiz. Each room has abundant with ways to play, from the latest in virtual reality gaming, to a karaoke lounge that have been brought to life in exquisite detail by means of tomorrow's technology and superior craftsmanship.
Autelitano says The Studios at The Star are a world away from reality, but carry all the benefits of The Star's premium in-house services, with their dedicated staff and world-class catering available on request.
"The Studios at The Star are a culmination of the very best in experiential hotel stays I've experienced from around the world," he says. "The rooms are designed for guests looking for a hotel experience like no other. There really is nothing like it in Australia."
Autelitano says the 70s Glam Studio brings to life the golden age of disco in a boogie wonderland of neon lights, sumptuous spaces and dazzling decadence. Slide on in through a mood-lit entrance hallway into a retro-fabulous playground where a neon lips n' cherry light pouts over a scarlet circular sofa, karaoke lounge area, gold-walled bar and black and gold velvet daybed – all with a disco ball sparkling above. In the bedroom, things get playful, with floor-to-ceiling draped gold chains. The outrageously oversized bathroom boasts a circular bath, black and gold tiles and double sinks.
Guests can take the controls of their very own high-tech headquarters in the Cyberpunk Studio, Autelitano says, which is a gamer's heaven bristling with tomorrow's technology.
"Our dedicated Tech Butler will usher you into a fiercely futuristic space, complete with a fully equipped virtual reality chamber and elite Xbox gaming set-up with a wall of four 65" TV consoles ready for non-stop action," he says. "There's nothing geeky about this decadent den; from the entrance hallway with suspended capsule chair to the sleek, graphic lines and ice-cool artworks to the indulgent bathroom with its metallic walls and mosaic waterfall shower, Cyberpunk oozes space-age chic.
"Players are cocooned in creature comforts: a full wet bar, spacious corner chill-out zone, mood lighting and separate bedroom with leather-look walls and silver curtains. Their massive cyber menu includes more than 25 Xbox and PC games, including endless multiplayer options offered by our Xbox Live Gold subscription, and a VR Arcade Bundle option for ultimate interactive thrills. Whether they are firing it out in Star Wars Battlefront, kicking goals in FIFA 17 or embarking upon an interstellar VR adventure with Cosmic Trip, you'll feel more powerful than a James Bond super-villain – and with a far superior hideout."
Scott Dinsdale, Media and Entertainment lead for Accenture in Australia and New Zealand, believes the new studios have enabled The Star to create immersive experiences for its customers that are unparalleled in the market.
"The Cyberpunk Studio is the first of its kind, offering the latest in gaming and virtual reality technology that's easily accessible, yet seemingly invisible. It's an example of how compelling experiences with technologies can create a new and immersive customer experience," he says.
"In a world where technology is such an integral part of everything we do both at work and at play, customers have an expectation that it will be used to improve their experience in every facet of their lives. The Star is answering that expectation by incorporating the Cyberpunk Studio into their offering, giving their guests the chance to have a great experience, not just a hotel room."
The Dark Romance Studio is a "lovers' lair like no other", Autelitano says.
"Sultry, sexy and gorgeous in every detail, this lavish sanctuary was made for close encounters of the most stylish kind," he says. "Meticulously designed mood lighting warms a rich scarlet and ebony palette with a candlelight-style glow, setting the scene for intimacy. Ruby paneled walls, a working fireplace with rug and couch and completely private balcony just for two will raise the guests' pulse, while a king-sized four-poster in the separate bedroom and a bathroom with over-sized circular bath will keep them feeling the love all night long.
"The mood is enhanced with handpicked and beautiful objects: a one-of-a kind leopard statuette, chic drinks trolley and showstopper modern chandelier. This opulent cocoon is the perfect backdrop for romantic milestones: honeymoons, anniversaries or simply celebrating an epic romance," Autelitano says.