YouFoodz wanted to something out of the box and edgy for their Christmas Party. The chosen theme? Freak Show Circus. Valiant Events delivered.
The idea was to incorporate interactive elements and immersive theming to transform the event space and take the experience to the next level.  The chosen venue already had the texture and that raw unpolished feel Valiant needed. It was about enhancing the surrounds with the right elements  to complete the vibe.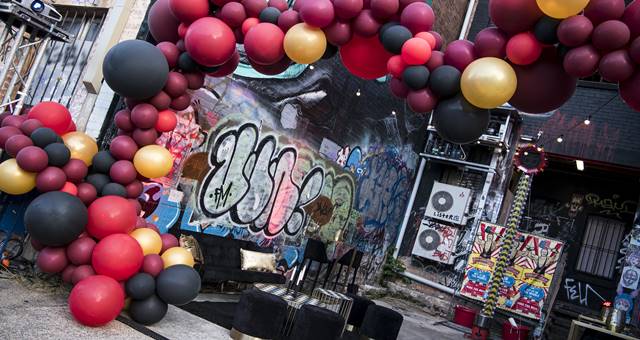 Valiant Events styled the whole space, from the entry feature through to the bar, cocktail tables, lounging pods and  entertainment area.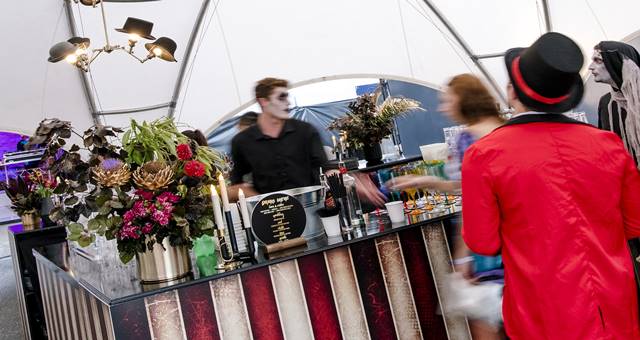 "The raw and abandoned state of the surroundings proved uniquely challenging but also vital to our inspiration," Valiant Event Stylist and Account Manager Ashley Pearson told SpiceNews.
"We were open to all the elements, limited by power, levelled surfaces and the fact it was a public laneway. We used the space's quirks to our advantage by creating pockets of interest within the warehouse, little laneways and sidewalks.
"Balloons spilled out of holes of the walls, warped mirrors lined the sidewalk, lounge areas sat underneath graffiti backdrops.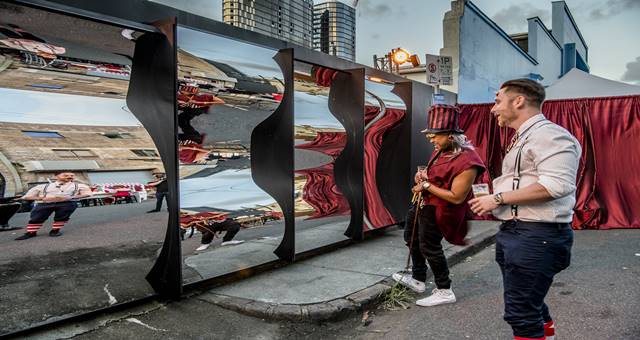 "We chose a refined furniture scheme to juxtapose against the dishevelled environment – gold trims, velvet textures, harlequin prints, dried floral arrangements and modern candelabras.
There were also a number of interactive elements incorporated, including warped mirrors, carnival games, a strength test, haunted house, a popcorn and fairy floss stand as well as roving performers.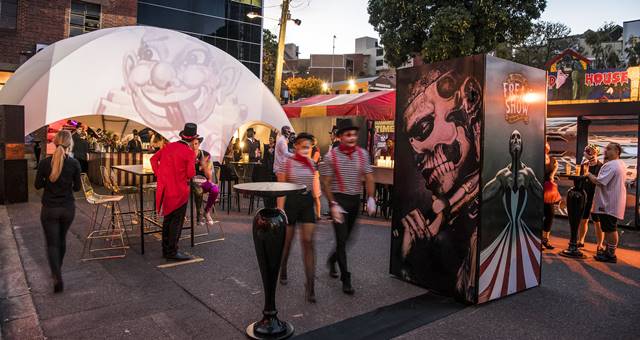 "Custom details including dapper hat pendant lights, a striped dance floor, creepy film projections onto the marquee ceiling and a statement keyhole entrance created a fully immersive design. We had adventurous clients who were incredible to work with and appreciated our attention to detail," Ashley explained.
The event was held at Little Street Laneway & Ground Level Warehouse, Fortitude Valley.