Sofitel Queenstown Hotel and Spa's lobby and reception area has been completely re-imagined, revealing a fresh new look.
Under the watchful eye of Auckland-based interior designers Macintosh Harris, the lobby and reception area makeover infuses both a delicate French flavour as well as a reflection the hotel's iconic location in the heart of Queenstown.
Sofitel Queenstown's General Manager Jeremy Samuels says:
"We're delighted with the new look lobby which infuses our rich heritage with contemporary aesthetics. It's a celebration of the allure and energy of being in Queenstown".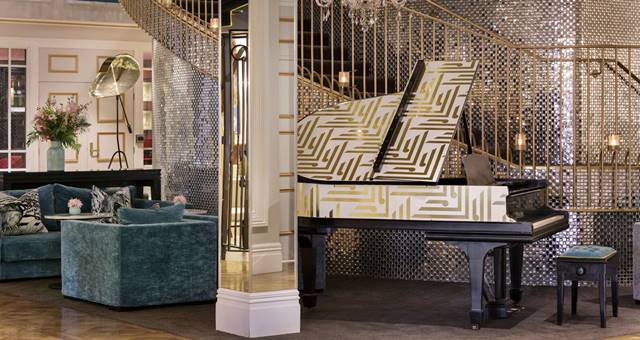 The new lobby evokes a feeling of grandeur featuring a colour palette that mirrors the turquoise hue of Lake Wakatipu and blends it with gold highlights – a historical nod to Queenstown's gold mining heritage.
An ultra-fine mirror mosaic envelopes the wall of the grand staircase adding to the glamour of the space. The feature of the renewed space is  an embellishment artwork on the 100 year old Steinway piano which graces the lobby.