Over 700 corporate event buyers attended Solution Entertainment and Atlantic Group's showcase held at Melbourne's Docklands on Tuesday 29 May.
All five rooms of Shed 14 on Central Pier were activated with different themes that took guests on an interactive journey, all guided by an avatar MC named Iris (Siri spelled backwards).
Atlantic Group CEO Hatem Saleh said that the event was all about forward-looking concepts designed to turn the events industry on its head with uncompromising innovation and technology.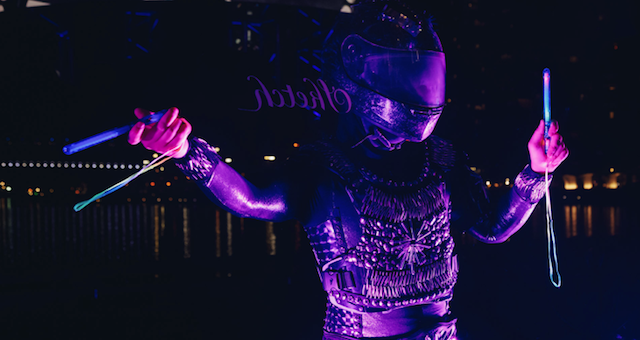 Upon entry to Central Pier, guests were welcomed by rollerskating acrobats and guided to the first room, Sketch.
In Sketch, guests were served canapes made from freeze-dried young coconut, tom yum foam, puffed grains, pizza stracciatella, tomato air, red garnet scallops ceviche, finger lime, compressed cucumber, blood orange powder foie gras parfait, brioche, asparagus, horseradish powder and raspberry strips.
Neon arrows directed guests from Sketch to their next location, Sumac.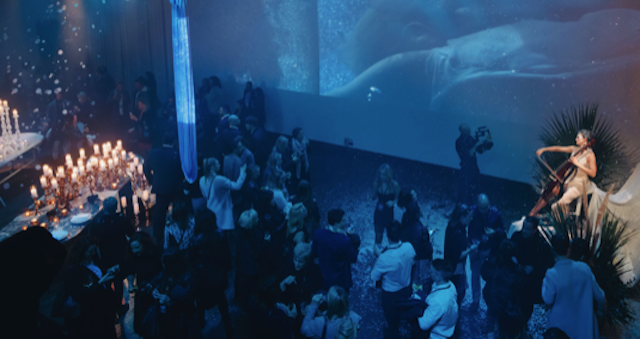 An electric cellist serenaded guests while they enjoyed cocktails. Sumac was styled with vivid customised centrepieces and enhanced by a white feature wall that displayed an immersive underwater visual. Bubbles and haze filled the room.
The third stop was called MAIÀ and featured a DJ playing electro-pop. Twenty dancers lined purpose-built scaffolding and delivered a high energy performance.
Guests were served sea urchin sashimi, samphire, edamame, ginger, tamari, ume seeds, slow roasted lamb shoulder, celeriac and coffee cream, gullac and kale powder, salmon, scallops, squid ink, champagne cream, Yarra Valley roe and polenta cake, roasted artichoke, pumpkin, beetroot, Persian feta with basil pesto.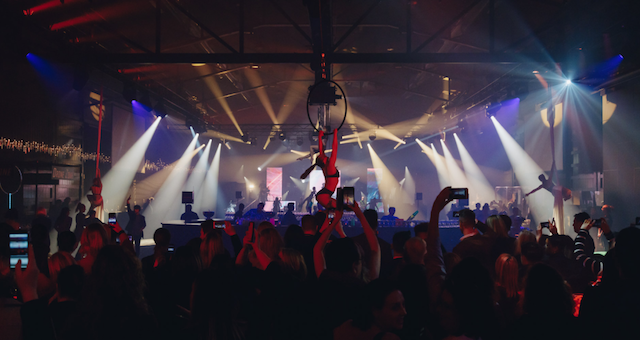 From MAIÀ, guests were escorted along the pier to their next destination, Peninsula C.
The expansive space featured aerialists swinging from the ceiling and an Argentinean grill that pumped out Wagyu steak with chimichurri, asado beef with coriander salsa, grilled chorizo with lime salsa, grilled sweet corn with paprika butter, polenta, rosemary and thyme chips, and Spanish patatas bravas.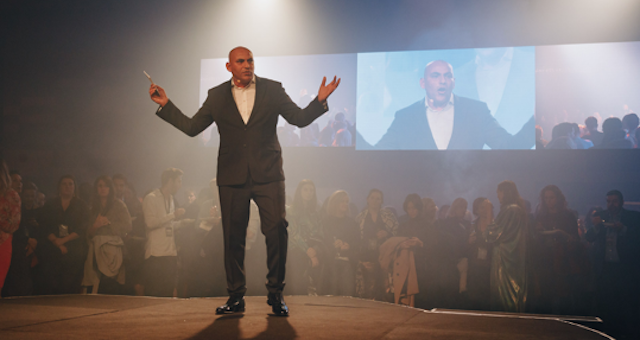 CEO of Atlantic Group Hatem Saleh (pictured above) and director of Solution Entertainment Brad Hampel welcomed guests into the final space.
Greeted by a UV bar, guests moved around the room where every inch was covered with food stations.
Special guest Consentino performed and guests enjoyed dishes from a seafood station, a mushroom station and a dessert station.
For a full overview of the event, click here.