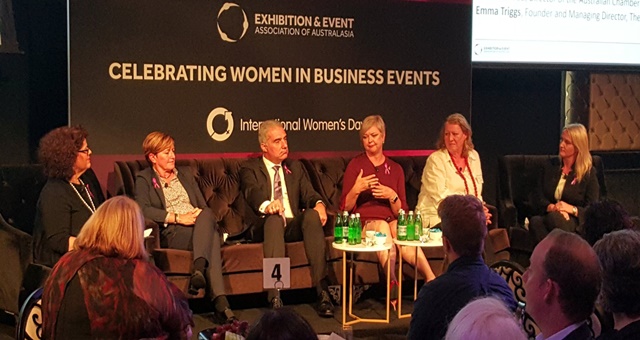 Professionals from the Australian events industry gathered this morning (8 March) for the Exhibition and Event Association of Australasia's (EEAA) annual International Women's Day breakfast, held at Doltone House, Hyde Park.
The sold-out event celebrated the contribution women make to the Australian business events industry, with representatives from local government and business owners from around the country in attendance.
The highlight of the morning was a panel discussion, chaired by EEAA chief executive Joyce DiMascio, who was joined by City of Sydney Councillor, Christine Forster; Pier One General Manager, Kim Mahaffy; Strategist, Consultant and Author, Jane Mathews; Director of the Australian Chamber Business Leaders Council, Paul Nicolau; and The M Agency Founder and Managing Director, Emma Triggs.
The conversation looked at the challenges women face in business in 2018, as well as taking focus on the trailblazers in Australia who inspiring change throughout the industry.
"This is not just a breakfast for women," DiMascio said. "It's time for everyone  in our industry to shine a light on the important role women play in our sector. If we want to continue to attract talent – women and men – it's important that we create an industry that values and respects those who are part of it.
"Recognising that men and women are equal contributors to a healthy economy and society is the key to our future success."
EEAA also collected donations of clothing for the charity, Fitted for Work, which offers smart and business wear to women who are returning to work after hardship.
To celebrate International Women's Day, Spice News a series of Q+As with inspiring female figureheads from the Australian events industry, learning about the role models who helped them to get to where they are today and discussing what businesses can do to inspire future female leaders in 2018. Check out parts 1, 2, and 3 of the series below:
International Women's Day profile part one: Lena Malouf
International Women's Day profile part two: Joyce DiMascio