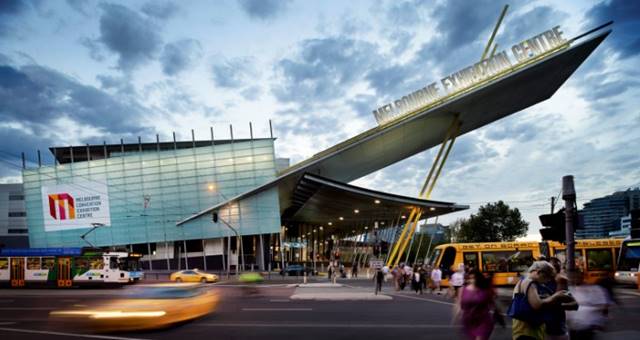 Melbourne Convention and Exhibition Centre (MCEC) was yesterday named an "Employer of Choice" by the Australian Business Awards 2017, joining an elite group of outstanding organisations recognised for excellence in employee recruitment, engagement and retention practices.
The annual, all-encompassing awards program highlights organisations that demonstrate the core values of business innovation, technological achievement, employee engagement and business sustainability. MCEC's diverse and inclusive culture, wide range of health and wellbeing activities, and in-depth career development programs were key to its recognition as an Employer of Choice.
MCEC's Chief Executive, Peter King said he was absolutely thrilled the venue had been recognised as an Employer of Choice after the business set itself the challenge to achieve the title three short years ago.
"We have been on a fast learning curve to achieve this, but the journey has been well planned, resourced and executed. This recognition is a testament to the hard-working people at MCEC, who every day strive to ignite moments of inspiration for our customers.
"I am extremely proud of what we have built here at MCEC and look forward to continuing our focus of promoting a culture that inspires, empowers, motivates, challenges and rewards at every level," Mr King said.
With the opening of the venue's expansion less than a year away, MCEC's Director of People and Culture, Helen Fairclough said the award is great recognition of the strong foundations now in place as the team prepares for major growth.
"As we expand our business and venue in 2018, we remain committed more than ever to ensuring that our culture and values remain strong.
"The award recognised our friendly and inclusive culture, where employees can expect anything and experience everything, and feel valued and supported to achieve through diverse learning opportunities and career pathways.
"Moving forward we want build on this even further and ensure that every MCEC team member understands what our business is trying to achieve, how they fit into our strategies and how their hard work and dedication forms the most critical part of the MCEC story," Ms Fairclough said.
"With strong foundations now in place, we can go into this next period of growth confident and focused on the actions we need to take to ensure we are not only a leading Australian employer, but one in our wider global industry,' Ms Fairclough added.
Minister for Tourism and Major Events, the Hon. John Eren said it was wonderful to see MCEC thriving in a highly competitive environment.
"Being recognised as an Employer of Choice will help MCEC attract the very best talent across the industry, and continue its work bringing world-leading business events to Victoria.
"To achieve this accolade as a government asset competing in the commercial world makes it even more impressive. Our investment in the venue has been incredibly beneficial for both the Victorian economy and its 700 employees," Mr Eren said.
As a winner of the Australian awards, MCEC will be benchmarked in the international chapter of the program at The World Business Awards, announced on 30 August 2017.