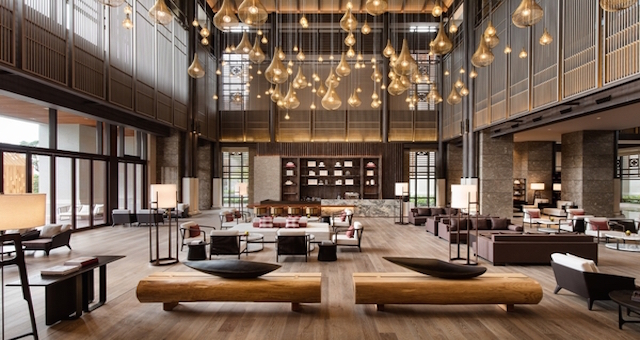 Marriott International has expanded its footprint in Greater China with the opening of Shenzhen Marriott Hotel Golden Bay.
Located within easy access of Hong Kong and close to the Dapeng peninsula (the origins of Shenzhen city), Shenzhen Marriott Hotel Golden Bay enjoys a prime location on the beachfront of Golden Bay – one of the top eight domestic bays in China.
"With 30 hotels in Greater China and more than 50 in the pipeline, Marriott Hotels is paced for rapid expansion," said Mike Fulkerson, Vice President of Brand Marketing, Asia Pacific, Marriott International.
"Shenzhen Marriott Hotel Golden Bay offers guests the opportunity to 'Travel Brilliantly' given its close proximity to the action in Shenzhen and Hong Kong, while providing direct access to the pristine beachfront environment for leisure travelers."
Shenzhen Marriott Hotel Golden Bay offers 317 spacious guest rooms and suites, featuring panoramic sea views, as well as high-speed internet access and high-tech facilities.
The modern interiors take cues from the local culture, combining elements from the Dapeng Fortress as well as Shenzhen's fishing village heritage.
Guests can choose from four restaurants and a lounge that serve up a variety of inventive local and international gourmet experiences.
Shenzhen Marriott Hotel Golden Bay also provides a wide range of activities for guests, such as a 24-hour fitness center, indoor and outdoor swimming pools, a kids' club and a spa.
"The hotel offers very thoughtful programming for its guests. Families can enjoy quality time together at the fully-equipped kids' club area, while adults looking to unwind can indulge in a rejuvenating treatment at the spa to align the body and mind and restore clarity," said Robert Young, General Manager of Shenzhen Marriott Hotel Golden Bay.
The property also has over 3,000 sqm of state-of-the-art event space, including the 1,000 sqm Kaisa Grand Ballroom that also provides access to a drive-in limousine catering to various needs.
In addition, it has a 480 sqm entrance foyer with a splendid sea view for an ideal pre-event reception. The hotel also features a public outdoor lawn overlooking the Golden Bay beach perfect for a whimsical outdoor wedding.
"We want our guests to experience forward-thinking, aesthetically pleasing spaces that help foster their inventive nature," said Matthew Carroll, vice president, Marriott Hotels. "Marriott Hotels has consistently pushed the boundaries of innovation in travel to create experiences that inspire and push our guests' creativity. Shenzhen Marriott Hotel Golden Bay has accomplished this and more."
Shenzhen Marriott Hotel Golden Bay hotel is fully integrated within Shenzhen Golden Bay Vocational Area and is the only hotel situated in Kaisa Golden Bay International Park – a world-class entertainment complex. The complex is slated to open its doors in 2020, and houses multiple entertainment and sport venues, as well as exhibition centres.