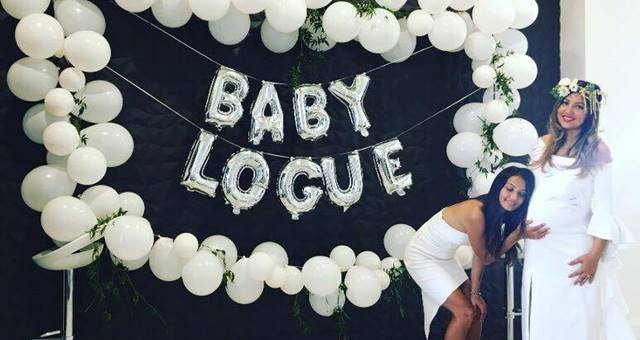 Baby showers have gone to the next level. Check out mum-to-be Michelle Logue's recent party.
Held last Saturday (11 February) at Logue's home in Harrington Grove, NSW, 60 guests arrived dressed all in white.
Catering included a grazing table with cheeses, grissini, crackers, fresh breads, dips, fruit and nuts, seafood paella, chicken, salmon and vegetarian sushi, beef spring rolls, mini bruschettas, mushroom and truffle arancini balls, salmon ceviche on rice crisps and prawn wontons for the savoury menu.
There was also a dessert table featuring Nutella cupcakes, mini red velvet and Oreo cupcakes, Krispy Kreme Doughnuts with gold flakes, vanilla macarons by Her Macarons, mini mango mousse cups, mini lychee and coconut jelly cups, mini strawberry cheesecakes, triple berry trifle, ricotta cannoli and a feature cake from Cakes by Ally Small.
Drinks included white and sparkling wine, soft drinks, virgin Mojitos, Mimosas, engraved fresh coconuts from Kayter Co and still and sparkling mineral water.
The thank you gifts were mini Nutellas with engraved tea spoons.
Games included 'Guess the Baby' wherein guests had to match baby photos with their adult guest counterparts, 'Designer Bibs' where guests created a bib design with textas, and 'Baby's Photograph' where passport photos of the baby's parents were cut up to create a composite image of what the baby might look like.
See below for a full list of suppliers:
• Invitation, Instagram prop and stationery: Stitchy and Co
• Flowers: Clementine Posy
• Entrance balloons, games, some foods (grazing and dessert table): Hosts
• Macarons: Her Macarons
• Engraved coconuts: Kayter Co
• Cake: Cakes by Ally Small
• BABY table: Styroboss
• Outdoor furniture: Rocket Events, Centennial Homestead and Nick's Restaurant and Bar Group.
• Props: Sweet Heavenly Events
• Chef: Rodrigo Do Vale Pombo
• Wai staff: Airtasker (Phuong N)
• Mum's outfit: Ellery
• Engraved spoons: Engraving Plus
• Entertainment: Acoustic Duo by 'Leoness'
• Gift registry: Baby Bunting