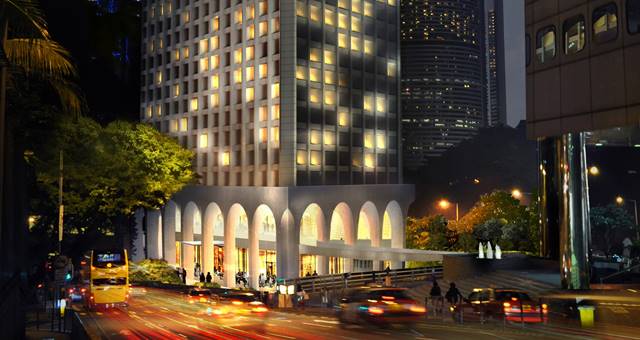 New luxury brand, Niccolo Hotels, is set to launch its flagship property in Hong Kong this October.
As well as being the first significant new luxury hotel to open in Hong Kong for several years, The Murray will breathe new life into one of Hong Kong's most historic buildings.
The tall white landmark structure, with its distinctive arches and unique recessed windows, was built in 1969 and has since won many awards for its ground-breaking and energy-efficient design.
World-renowned architects Foster and Partners, whose work includes The Hong Kong and Shanghai Bank headquarters and the Hong Kong International Airport, have been engaged as designers for the project.
Located on Cotton Street between the central business district and the green oasis of Hong Kong Park, the 336-room hotel will offer a sophisticated sanctuary in the heart of the city.
The refurbished hotel will have rooftop bar with excellent views of the city. A series of signature restaurants are also being planned.
British-born hotelier Duncan Palmer has been appointed as the hotel's managing director, and will bring his many years of experience with The Savoy, The Connaught, Mandarin Oriental and Langham Hotels to the role.
He said, "I am quietly confident this will become the preferred hotel in Hong Kong for visiting dignitaries, captains of industry and leaders in style. They will appreciate the sophisticated and international standard of hospitality that the Niccolo brand delivers."