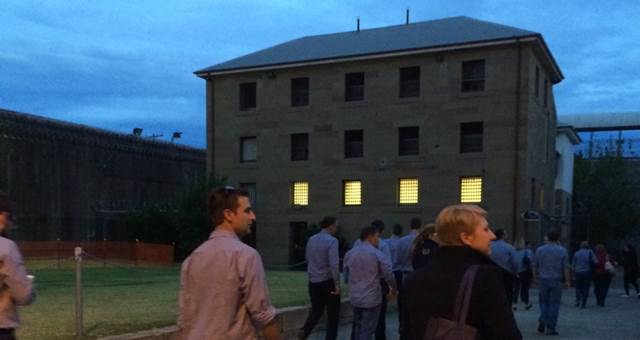 The North Coast and Hunter Regional Conference for NAB was held on the grounds of Maitland Gaol late last month.
The conference took approximately two months to plan, with 110 delegates attending, including branch managers from the Central Coast right through to Port Macquarie. The caterer for the conference was a local caterer called Lillies and Limes who are based in Morpeth.
The gaol allows clients to bring in their own caterer and they have the option of hiring the commercial kitchen onsite if they wish or alternatively can bring in the food pre-cooked. In this instance Lillies and Limes hire the kitchen and cooked onsite.
The conference began at 8.30am and delegates conferenced in the auditorium until 4.30pm (breaking for morning tea and lunch during the day). The hire of the auditorium includes tables and chairs, a projector and large projector screen and free WiFi.
Directly following the conference, the delegates were split into three groups and taken on a guided tour of the gaol (an add-on all clients can arrange for their event). The delegates then enjoyed a three-course dinner in the gaol's onsite marquee, before partying the night away. The marquee comfortably held the 110 people, plus a band.
One of the attendees said, "Maitland Gaol was a wonderful location for a conference. The tours proved a fantastic reward for staff at the end of a long day and the marquee held 110 of us comfortably plus a band. I would thoroughly recommend Maitland Gaol as a conference/function location for anyone wanting something a little different, the staff are amazing and make everything work like clockwork, loved it and we will be back".