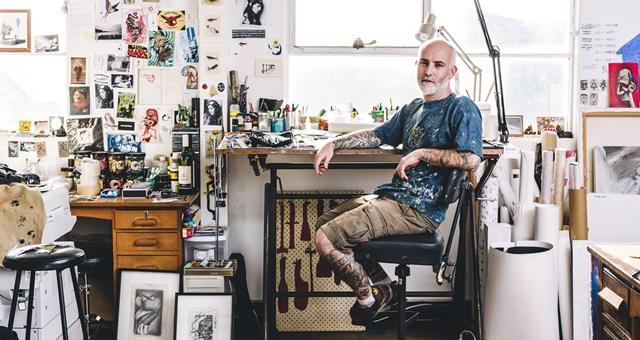 Rising Melbourne artist Steve Cross is hosting his first solo exhibition on April 15 at the Juddy Roller Gallery.
The Black Ocean is the first instalment in a series of oil paintings from long-term visual artist Cross, who recently painted works on the side of containers in a special commission for the Australian Formula 1 Grand Prix.
Originally from Perth, Western Australia, Cross relocated to Melbourne in 1999 to pursue a career in tattooing. In the ensuing years he honed his craft, cementing a reputation as one of the country's finest tattoo artists.
In 2007 he opened his own shop, the acclaimed Korpus Studio, in Brunswick. But he never lost the love for his first creative passion, being graffiti.
Cross has been painting walls both nationally and internationally since 1988 and in that time he has created hundreds of large-scale murals, showcasing his varied style and passion for street art.
While both these careers have seen his artwork showcased very publicly – on walls, and skin – this is the first time Cross has exhibited any of his oil paintings.
This selection has been worked on over the past three months, in private, and away from inquisitive eyes. As such, this work is deeply personal, and perhaps the most revealing of all Cross' mediums.
Cross says The Black Ocean represents his obsession and compulsion to create; the paintings representative of the internal struggle an artist encounters when immersing themselves fully in the creative process – and the isolation that brings.
"The subjects are caught in moments of internal disquiet – floating and falling into an ocean of inky blackness," he says.
The Black Ocean will run from April 15-30 at Melbourne's Juddy Roller Gallery.