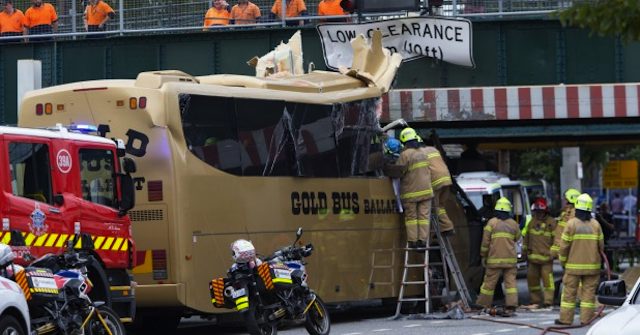 In a joint statement, Melbourne Convention Bureau (MCB) and Reed Travel Exhibitions have confirmed the details of the tour bus incident.
The statement read, 'The Asia-Pacific Incentives and Meetings Expo (AIME) has confirmed that the bus involved in the incident on Monday at 10.30am on Montague Street, Melbourne was carrying a tour guide and 13 delegates on their way to a showcase tour.
'All on board were assessed by emergency services on site and those requiring treatment were transported to hospital. Several delegates received cuts and abrasions and were discharged from hospital in the afternoon; some remain in hospital and are receiving further medical treatment.
'The primary concern of both the owners of AIME, the Melbourne Convention Bureau and the operators of AIME, Reed Travel Exhibitions is the wellbeing and safety of all those on board.
'Organisers of the show have visited each of those delegates who remain in hospital undergoing treatment. Family and friends are with those who remain under medical care. Support and assistance is being provided wherever possible to delegates, friends and families affected by this incident.
'Management teams have been in close contact with emergency services and the transport company and are assisting in ongoing enquiries.
'As a close knit community of over 4,000 business event professionals, delegates attending AIME functions today were concerned about their colleagues and friends and have been provided updates by both Karen Bolinger, CEO, Melbourne Convention Bureau and Sallie Coventry, Portfolio Director, AIME throughout the day.'
For further information about the incident, click here for the story and video that appeared in The Age.