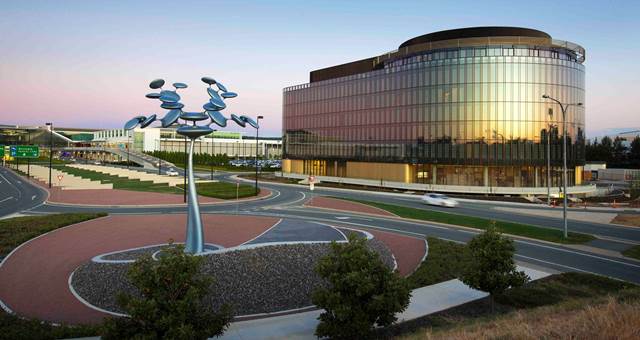 Vibe Hotel Canberra Airport set to open in November 2015.
Located 50 metres from the door of the airport terminal, the hotel has 191 sound-proof rooms with complimentary WiFi and Vibe Fit gym access included in the tariff.
The hotel includes 110 lower deck rooms (floors 1 to 3), 60 upper deck rooms (floors 4 and 5), 12 first class suites (floors 4 and 5) and 9 one and two bedroom apartments (floor 6), all of which are centred around an atrium.
The hotel has an onsite modern European style bistro called a Helix Bar and Dining and meeting facilities including six fully adaptable conference and event spaces catering for up to 200 guests. Room hire includes complimentary WiFi, audio-visual hire and Vibe Hotel's signature creative conferencing extras.
TFE Hotels group director of marketing Emma Fraser said, "Vibe Hotel Canberra Airport is everything we have been working towards, with the rollout of our next generation Vibe Hotels, so we're absolutely thrilled with this iconic new property. It has connection at its core from the local area through our Vibe hosts and local partnerships, to the social hubs of the lobby space where people can meet, work and feel inspired. We've combined those core values with the convenience of a central location, both to the airport and the civic, and we're sure that guests will find this hotel a valuable addition to the nation's capital."