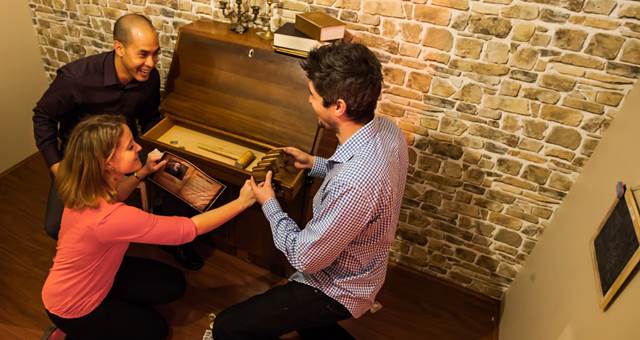 A fun new international teambuilding activity is now available in Australia.
The Escape Hunt Experience, one of Trip Advisor's top rated tourist attractions in multiple cities across the world is now open from 10am – 10pm in Sydney, Melbourne, Brisbane, Perth, the Gold Coast and opening soon in Adelaide
The Escape Hunt experience involves teams of 2 to 5 people being 'locked' inside a mystery room and required to use their combined skills to find clues, solve puzzles and crack codes in order to beat the clock in under 60 minutes.
The rooms cater to families of all ages (recommended 7 +), tourists and locals, corporate celebrations and teambuilding, first dates and school groups. Teams escape from a themed room with the help of a 'game master' who watches from outside via CCTV and assists as required.
Transported into a different era, players will go back in time to complete one of fifteen unique themes situated around the country (three themes per location). In Sydney, the themes involve solving an extortion case in a dockyard, a theft in a cottage and a murder in a pub in 1920s Australia.
With similar elements to an IQ test, the concept is the brainchild of Bart who is a qualified psychologist. Each mystery game has been designed to challenge the senses and requires brainpower, teamwork, decision making, resilience, perseverance, problem solving, code breaking, puzzles, and plenty of red herrings.
For more information, click here.