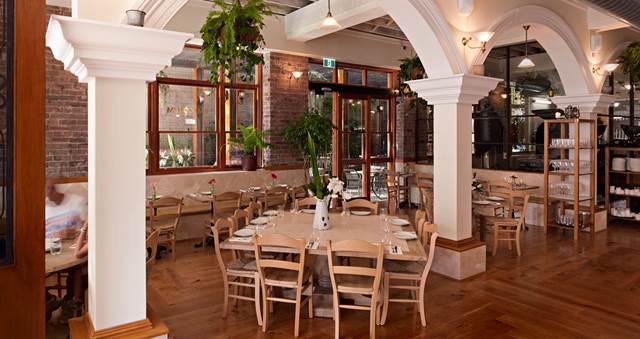 The Emporium, the latest addition to Parramatta's bourgeoning food scene, has opened its doors bringing a new quality dining and drinking experience to the area.
With the arrival of head chef, Rob Cannon, The Emporium specialises in a distinct modern Australian style of dining combined with delicious Mediterranean influences
Former Head Chef of Steel Bar and Bistro and before that as Sous Chef at Pony Lounge and Dining, Cannon brings classic English training with modern Australian influences to the newly opened restaurant, bar, bakery and coffee roasting facility.
In the UK, Cannon refined his technical and creative abilities at the highly regarded 70 room country house hotel 'The Grange', in Winterbourne. Under the tutelage of The Grange's head chef Duncan Sneddon, he mastered classic English dishes based on lots of game meats, garden grown herbs and vegetables, house made breads and pastries.
Cannon said, "The thing about Australian cuisine today is that it's so broad, with so many different influences, from Mediterranean to Asian – it's a really fun way to cook and experiment with produce and technique."
Visitors to The Emporium will find themselves relaxing into handmade furniture imported from Venice while sitting under mounds of ivy and jasmine, adding to the Mediterranean feel.
The Emporium is an unprecedented concept in Parramatta. Entrepreneurs (and Western Sydney locals), cousins John and Sam Ayoub, of 'The Coffee Emporium' acclaim, are behind the venue's inception, the idea coming off the back of frustrations in finding top brass food in the region.
General Manager of The Emporium, Dominic Borel who has managed some of Sydney's top venues including Gazebo Wine Garden, The Local Taphouse and The Observatory Hotel is eager to bring something fresh to the Parramatta area.
"The food scene in Parramatta, while rich and fruitful, definitely has its limitations. People are still going out of their way to travel to the CBD and inner-city fringes to obtain an international standard of service and cuisine. With just over 1.3 million people currently living in this city, there was too big of an opportunity to ignore," said Borel.
Cannon's Mediterranean-inspired modern Australian menu sees creative yet simple and honest food, complemented by an international wine list and classic and signature cocktails. The venue will offer breakfast lunch and dinner seven days a week.
The Emporium's loyal coffee drinkers will wake themselves up with Western Sydney's finest coffee beans, made from the largest in-house coffee roaster in Parramatta. The industrial size facilities will work around the clock to produce fresh coffee on a daily basis for the restaurant and take-away.
The Emporium is located at 51 Phillip St, Parramatta.