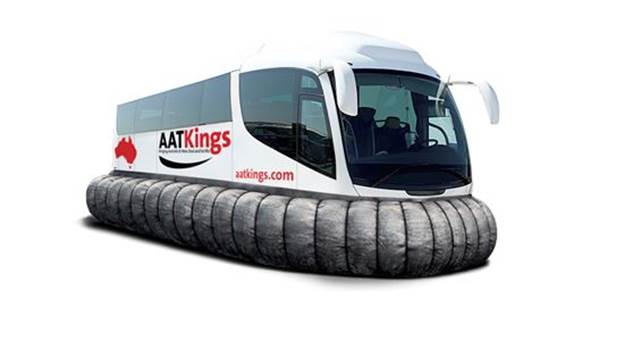 Ed note: Spice got caught out on this excellent April Fool's Day joke by Travel Daily. My face is bright red right now! Apologies Spice readers. This was in one of the 849 emails I got when I returned from annual leave. It seemed really fun and I wanted you to know about it. Read on for this excellent prank. AAT Kings – can you please build one of these for me?
AAT Kings has just released details of a new 'HoverCoach' touring product.
The unique vehicle will commence operation in Sydney later this year, allowing AAT Kings to take its guests to Manly via road before returning to Circular Quay on Sydney Harbour.
AAT Kings managing director Anthony Hayes said, "The HoverCoach is without a doubt one of the most exciting developments not only for AAT Kings in our 100 year history but the Australian travel industry.
"Whether visitors are coming from interstate or around the world, they want to see Sydney's famous beaches and harbour, and for the first time they will be able to travel to Manly by road then join the ferries, yachts and cruise ships on the harbour to return to Circular Quay," he said.
The coach has been fitted with an inflatable Kevlar carbon-fibre bag skirt which inflates to be 'hover-ready' in less than three minutes.
"Seeing the HoverCoach on the harbour beside the iconic Manly Ferry will be quite a sight, and yet another drawcard for this incredible city," Hayes said.