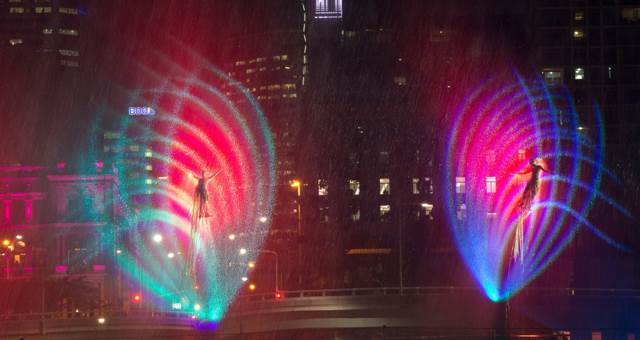 Oracle Attractions is one of the finalists in the upcoming Australian Event Awards for the laser, projection and water show it designed for the Santos GLNG City Of Lights event in Brisbane.
Oracle built a world record-sized falling water screen with a projection surface of 1120 square metres (the previous record was claimed by South Korea's 'Big O Show' with a projection surface of 800 square metres).
Oracle's screen delivered over eight tonnes of water per minute in the form of a curtain of water drops, the ultimate canvas for a laser projection show.
Challenges included complex Research and Development into flow dynamics and nozzle technology, as well as innovative design of assembly and rigging systems and building a remote wireless control system.
The screen had to be used interactively with performers, adding another layer of complexity. On top of all this, the entire system needed to be floated on the Brisbane River, requiring assembly and operation to take place on a barge. Accurate modelling, testing and careful engineering were critical to the process to ensure safety, practicality and successful function. The rigging
design, for example, included a shock absorption system to eliminate harmonic waves that might arise as the 40m screen swayed in strong winds. During installation, the screen was assembled and lifted in stages, so rigging and water systems could be tested before it was finally craned into position.
In addition to the water screen, Oracle supplied a skyline laser show, mounted on five of the city's skyscrapers, as well as multiple fountain systems, including moving head, animated fountains that have not been available in Australia before.
The show helped Brisbane Festival organisers attract record audiences of over 440,000 people to the Southbank site.