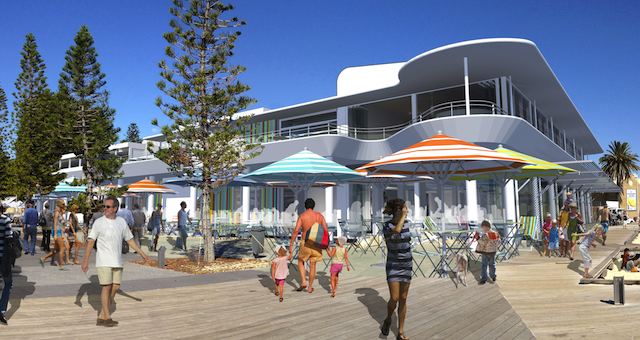 A new beachfront restaurant and bar, under construction at Fishing Boat Harbour in Fremantle, is slated to open in the first week of December.
Located at the old McDonald's and Sails Restaurant site, Bathers Beach House will be Perth's only absolute beachfront venue.
Long Jetty Holdings – developers and owners of Cicerello's Fremantle and Mandurah and Char Char Bull Restaurant – are the team behind the new venue.
Long Jetty Holdings director Nick Unmack said, "This is part of adding life and vitality to the Bathers Beach Art Precinct after the City of Fremantle invested in the area during the 2011 ISAF Sailing World Cup.
"Revitalising the building is a consequence of doing what needs to be done, following that initial burst of enthusiasm," said Unmack.
Designed by McDonald Jones Architects, the new venue will have an art deco feel.
The two-level building will have an alfresco area and is using recycled teak from Papua New Guinea, turn-of-the-20th-century hand-made brass light fittings and wood from the old boardwalk and jetty from Bathers Beach. A beachcomber mural by local artist Amok Island will feature prominently.
Unmack said, "There's a lot of history – it was the former Fremantle Fisherman's Co-op Building and the original Cicerello's was in the corner up until the 1950s.
"Some may say we're making a silk purse out of a sow's ear but we're just ensuring we're here for the long haul.
"It's a sophisticated fitout that makes use of the area and is very Fremantle in its approach.
"We want to make sure this is more than just a restaurant and bar – we are putting our heart and soul into this," said Unmack.
The City of Fremantle has given approval for Bathers Beach House to place beach lounges on Bathers Beach to extend the reach of the venue.
Bathers Beach House will be open seven days a week and is located at 47 Mews Rd, Fremantle WA.