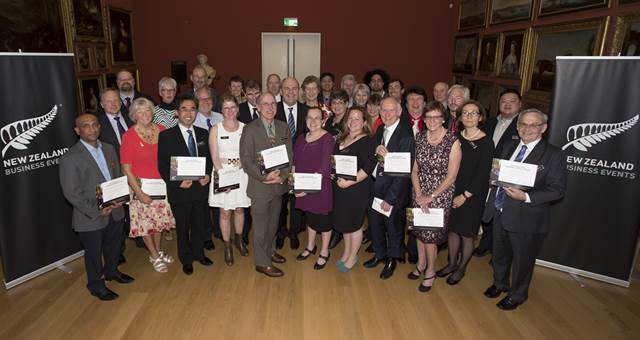 Last night's business events award winners
New Zealand announced the introduction of a formal business events advocacy program at the inaugural New Zealand Business Events Awards dinner last night, held by TNZ and partners Auckland Convention Bureau (ACB) and Air New Zealand.
The dinner celebrated the success New Zealand has had in the Business Events sector and acknowledged the contribution of key industry and sector leaders.
Event attendees have won a combined 29 international events representing an estimated 13,500 delegates and injecting approximately NZD$41 million into the New Zealand economy.
TNZ's International Business Events Manager Bjoern Spreitzer said, "It's great to see New Zealand successfully bidding for and winning international association conventions. Much of this comes down to the influential sector leaders who are putting their hands up to champion their field of expertise to attract key conventions to our shores. The advocate program is about creating lasting relationships with these individuals so that they can continue to bid for international conferences and encourage their colleagues to do so as well."
TNZ, in partnership with ACB, has developed an advocate programme that will identify and engage thought leaders in their field, as champions for business events.
ACB Manager Anna Hayward said,"The ACB team has worked with some incredibly passionate individuals over the years and is excited to harness their enthusiasm and work with them to lift Auckland's profile on the world stage of international conferencing. The Auckland Advocate Program will use the expertise and support of the ACB and TNZ team to assist sector leaders to attract and deliver world class conferences."
Air New Zealand chief commercial and sales officer Cam Wallace said, "The business events market is an important means of driving visitor arrivals to New Zealand over the shoulder season. This initiative is a great addition to work already being done by the tourism industry. Earlier this year, Air New Zealand launched a Conference Support Programme which aims to grow the number of conference bids won for New Zealand by working in partnership with conference organisers."
TNZ has significantly increased its efforts in the business events sector and in the last financial year has bid for 39 international events and has secured seven. The total economic value of these wins to New Zealand is NZD$15.6 million.