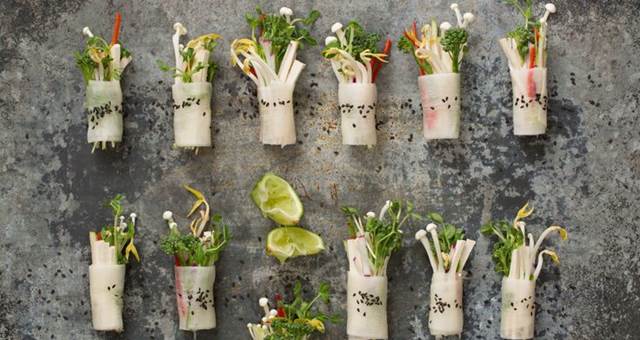 Spice speaks to Kate Stewart from Bright Young Things about the hottest trends for the 2014 Spring Racing season.
1. Food – Two extremes: Healthy vs decadent
Through our HealthyBYTe 'health by stealth' catering label, we're providing delicious, nourishing items such as:
Smoked tofu, apple and vegies wrapped in daikon with enoki, sprouts, broccolini, cashew mayo and coconut amino – gluten friendly, vegan and lactose friendly
A healthier chicken sandwich : steamed happy chicken sandwich with dry 
toasted almonds, basil, mint, lemon and nut mayonnaise on seedy chia bread – gluten friendly and lactose friendly
Salad pails including grilled salmon, fennel, baby spinach, witlof and pink grapefruit salad with horseradish and dill yoghurt – gluten friendly
Our trail mix – roasted cashew, pistachio and cranberry trail mix with apple, goji berry and cacao coconut buckinis
And our fun take on a chocolate crackle – puffed quinoa, activated buckinis, coconut and cacao with freeze dried raspberries and pistachio – gluten friendly, vegan and lactose friendly
And the decadence?
Southern fried spicy chicken, coriander and sweet paprika crust and gorgonzola ranch dressing
Baby brioche roll with crispy bacon, spiced tomato relish and dreamy scrambled eggs
Luxury layered trifles with coconut cream, chocolate ganache, cherry jelly and fennel
French rum and vanilla canelés with raspberries
Another big foodie trend is adventurous BBQs  – think Argentinian inspiration, down south American smoked brisket, lots of chilli sauces and condiments, soft brioche rolls and pickled vegies.
2. Styling metallics
Copper and gold  is still all the rage. We're loving the sexy metallic bars from Harry the Hirer, the geometric lanterns from Tableart and our gold washable paper bags – great for fruits, flowers, bread and props.
3. White on white polka dots
Pure, textural and so summer – offers a sense of fun.
4. Customised and smart DIY
We love StudioDIY for inspiration and crafty projects. Check out these donut stools.
5. Flowers
For flowers, our friends at FlowerJar have the following advice: Spring should be about gorgeous colour pops. We are styling simple and classic whites and greens but with the addition of a bold pop of warm colour- fuschias, corals, or yellows. Plus texture, texture, texture- lots of mixed green foliage, blossoms, branches and leaves to add the fresh spring feel, and an abundant, lush, textural style.