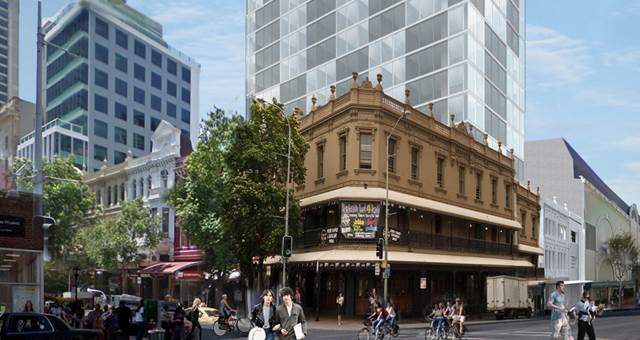 Accor has signed on to manage the Brisbane Ibis that will be built by Middle Eastern property developers Action Hotels plc (Action).
The 368-room ibis Brisbane Elizabeth Street hotel was announced this morning by Accor Pacific COO Simon McGrath, managing director of AHC Australia, Andrew Nehme and Brisbane Lord Mayor Graham Quirk.
Accor and Action Hotels plc currently operate five Ibis hotels with a further three due to open by the end of 2016.
McGrath said, "Accor remains the leader in the economy hotel segment with 60 hotels in the Australian Ibis 'megabrand' brand portfolio. The Ibis brand has kept up with the changing expectations of consumers through design-led affordable quality hotels. As such, investors are strongly drawn to the Ibis brand as exemplified by three new build hotels currently in development and the recent opening of Ibis Adelaide.
"Once operational, Ibis Brisbane Elizabeth Street will add another dimension to the brand growth as the largest Ibis hotel in Australasia. We are excited to be part of this key development for Brisbane and look forward to working with Action on another successful partnership," said McGrath.
Quirk said the $90 million development would create more than 400 jobs during construction and 80 positions during operation.
Quirk said, "For the past two years our economic development board, Brisbane Marketing, has been spreading the strong message about Brisbane's hotel investment opportunities. Brisbane has a very positive hotel investment pitch and continues to grow its reputation as a destination of choice for business, investment and major events.
"As Australia's New World City, Brisbane is attracting new hotel developments and this increased supply of hotel rooms improves our ability to attract visitors, as well as providing many new jobs and opportunities for local businesses. Developments such as this represent confidence, appetite and opportunity at home and abroad," said Quirk.
Construction of the multi-million dollar hotel development will commence in later this year with a scheduled opening in early 2016. The Ibis located at 40 Elizabeth Street will adjoin the Myer Centre and Queen Street Mall.
This will be Accor's fourteenth hotel in Brisbane and fifth Ibis. It will join Ibis Brisbane, Ibis Budget Windsor, Ibis Budget Brisbane Airport and the recently announced Ibis Brisbane Airport hotel also planned to open in 2016.