So you've been set the task of planning an 'awesome' Christmas event. But the options that have found their way to your desk are anything but. This calls for some seriously creative thinking.
Enter Enhance. From the first moment you contact them, you'll see they're not like the others. For starters, creative talent for an event doesn't have to cost the earth.
This year Enhance encourages, implores you even, to look beyond the noticeable. Forget cheesy and give tacky the flick.
When planning your Christmas Event take a pledge to overlook Mr Mistletoe and his cheesy buddies. It's sooo liberating.
Speak with a Talent Specialist today on 1300 884 485 and hear Enhance's pledge to Toss the Tinsel – it's like a breath of fresh tinsel-free air.
THIS CHRISTMAS, TOSS THE TINSEL FOR FRESH TALENT
SWAGAMAMA – Australian Champion Breakdancers and Acrobats
SWIMSYNC – Australian Olympic Synchronised Swim Team
ANTHONY THE MINDREADER – He already knows what you want for Christmas
STRINGS ON FIRE – Bring some heat to your event with a spetacularly hot show
CHLOE – Refined funk 'n soul live on stage
BLVD – Redefining cutting edge dance with the best in the business
JOEL OZBORN – This guy fits himself through the head of a tennis racquet. Yes, a tennis racquet.
COMEDIANS – The funniest guys and girls on the circuit today. And they're corporate friendly!
HEADLINERS – The nation's leading recording artists plus winners of The Voice, Australia's Got Talent and more.
Want more? Call 1300 884 485 and speak with a Talent Specialist today or contact Enhance
ABOUT ENHANCE
Trusted Australia-wide by over 500 companies, Enhance Entertainment is in the business of talent. They provide Australia's corporate sector with select keynote speakers, comedians, entertainers and MCs for events in all their forms.
Enhance holds over 1000 forms of entertainment, from international headliners and celebrities, to live bands and stage acts, energizing and inspirational Olympic athletes, and business keynote speakers and entrepreneurs. With additional talent fresh from hit TV shows including MasterChef, Australia's Got Talent, X Factor, Australian Idol and The Voice, Enhance Entertainment holds the resources to give any event a serious wow factor.
Facebook Twitter LinkedIn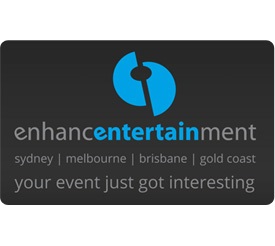 AUSTRALIA-WIDE
Phone: 1300 884 485
International: +61 2 9518 3944
Fax: +61 2 9569 0297
Web: enhancentertainment.com.au
Email: [email protected]