The old Paramount Pictures screening theatre in Surry Hills has been lovingly restored and turned into the ultimate small venue.
If director David Lynch ran a venue, this would be it. The bar area is a brown velvet, timber veneer and brass delight with a secret stage hidden behind a remote controlled curtain. The menu consists of things like The Spielburger, a toasted sandwich with proper New York-style pastrami, sauerkraut and Gruyere cheese served with a pickle, as well as movie-inspired cocktails, craft beers, natural and organic wines from Australia and abroad and cocktail shaker popcorn that comes in a range of flavours including Szechuan. There's also vintage Dom Perignon for those nights when you win an Oscar or an Emmy.
The screening theatre has a more heritage vibe, with chairs purchased from an old cinema in Switzerland, a palette of moss green and vintage film projectors direct from Rome.
The bar has 45 seats and fits 60 people standing. The screening room fits 56 seated and another 15 people standing.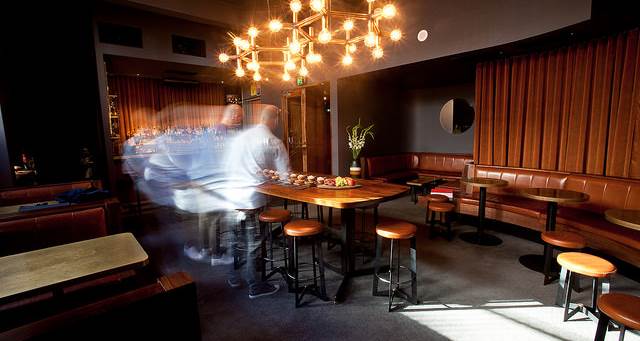 The venue is available for hire for private functions including live music performances, client presentations and events, screenings of your own films or theirs and catered drinks. The team work with a caterer for more elaborate events but can provide a share platter-style food including charcuterie, cheese and antipasto platters.
Golden Age Cinema and Bar is located in Paramount House at 80 Commonwealth St, Surry Hills.