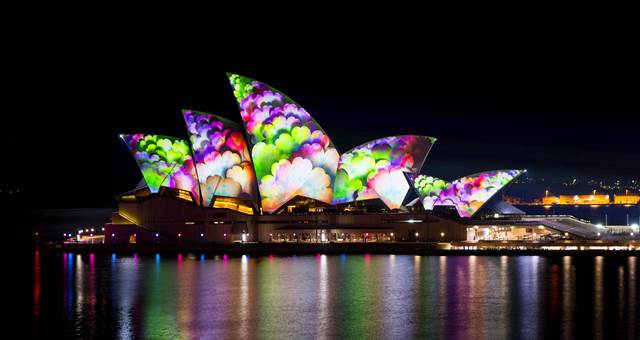 NSW Premier Mike Baird hit the 'lights on' switch for Vivid Sydney 2014 at the MCA on Friday night to a crowd that included Malcolm Turnbull, Indira Naidoo and Jess Scully.
Since then, it's estimated that over 270,000 people have participated in the event.
Baird said, "Vivid Sydney has become one of the city's most anticipated events, drawing massive crowds from Sydney, interstate and overseas. This event showcases the state's creative talent and transforms the way the city's most famous landmarks are viewed using spectacular lighting displays and projections.
"Last year, the family friendly festival attracted an impressive 800,000 visitors, which in turn delivered a major $20 million boost to the NSW economy.
"This event provides a welcome boost to shops, restaurants, cafes and bars during the winter period and I'd encourage everyone to leave the car at home and take advantage of more than 3,500 additional public transport services on offer during the festival."
NSW Deputy Premier and Minister for Tourism and Major Events Andrew Stoner said Vivid Sydney is made up of more than 200 events that showcase the state's creative industries, including digital media, design, animation and music.
Stoner said, "With 40 per cent of Australia's creative industries based in NSW, nurturing our state's creative sector through major events like Vivid Sydney has a positive impact on our economy and the overall strength of our nation's creative industries. This year's festival has been expanded to five new precincts, including Martin Place, Carriageworks, The University of Sydney, The Star and Sydney Harbour.
"The festival includes 50 free light installations and projections transforming Sydney's architecture and open spaces through Vivid Light, 80 Vivid Music shows, and 300 speakers at 180 creative industry events as part of Vivid Ideas."
View the full Vivid Sydney 2014 program here.