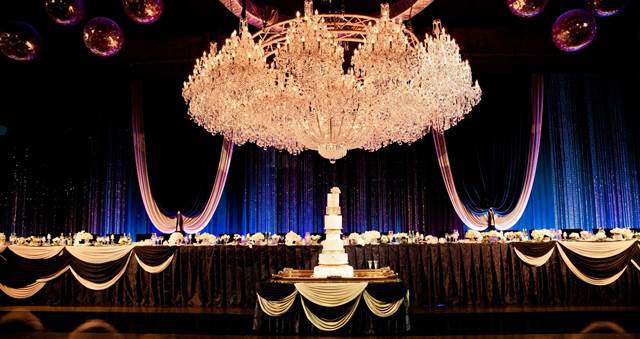 850 guests descended on the Exhibition Hall at Australian Technology Park Conference and Event Centre (ATPCC) for a 1920s themed soiree.
The first part of the evening saw guests congregate in a cocktail area with two bars, a five piece jazz band and a gift area that included a powder lounge for people to touch up their makeup.
The crowd was then welcomed with a red carpet imported from Italy and were wowed on entering the Exhibition Hall by 35 stunning chandeliers, one five by five metres in size that hung over the dance floor.
With a backdrop featuring a water fountain, ice sculpture, oyster bar and cabanas serving coffee, the catering included a three-course meal and eight tier cake created by Sydney caterers Gastronomy. Maria Lush did the flowers and Decorative Events, Staging Connections and the ATP team worked on the theming, AV, lighting, sound and event management.
Tina Arena performed with a 70 piece band that included 30 drummers and a string quartet at various times throughout the evening and the event concluded with an outdoor fireworks display.
ATP's Director of Sales and Marketing Ruby Chronis said, "The Team was there to bring this together. Having a full sit down dinner this size, with bands, chandeliers, drummers and red carpets meant we had to all pitch in and ensured all work health safety standards were met, traffic was managed by a concierge service, the Hall looked phenomenal and everything happened seamlessly. They did a fantastic job.
"As a venue, the ATP offers a flexible and diverse space and this event highlighted how it can be completely transformed in to an event to remember."
The event was created by planner, stylist and coordinator Noel Nassar.