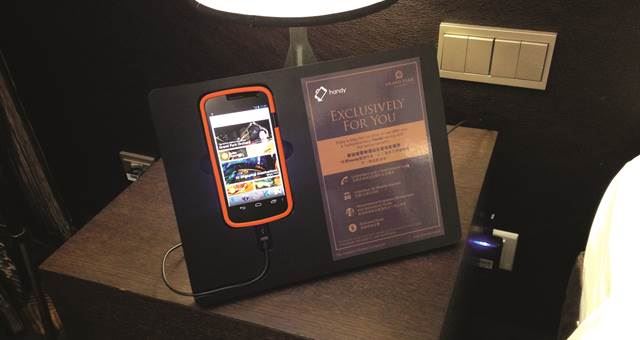 The Grand Park Orchard Hotel in Singapore now offers free unlimited internet connectivity and IDD calls to guests in all of its 308 rooms.
Each personalised handy smartphone is available for guests as soon as they enter their guestroom, giving them instant access to free unlimited local and international phone calls (currently to 27 countries – including popular destinations such as Indonesia, India, United States, China, Germany, United Kingdom, France, Australia, Hong Kong, Japan and South Korea) and complimentary, high-speed data connectivity.
The unlimited 3G Internet connectivity also allows for easy Wi-Fi tethering to other mobile devices such as laptops and tablets, as well as access to a detailed city guide and promotions.
General manager of Grand Park Orchard Darren Ware said, "At Grand Park Orchard, we are in constant pursuit of excellence with every facet of our product and services. With handy, we are raising the bar to deliver the best guest experience possible.
"Whether our guests need to chair international conference calls, skype their children before going to bed, share photos on social media, watch HD videos or simply plan for an impromptu dinner at the hotel, we believe the handy solution will provide them with an elevated experience like no other, through greater convenience, efficiency and savings."
Preparations are underway to roll out handy across Park Hotels' two other Singapore properties, Grand Park City Hall and Park Hotel Clarke Quay.