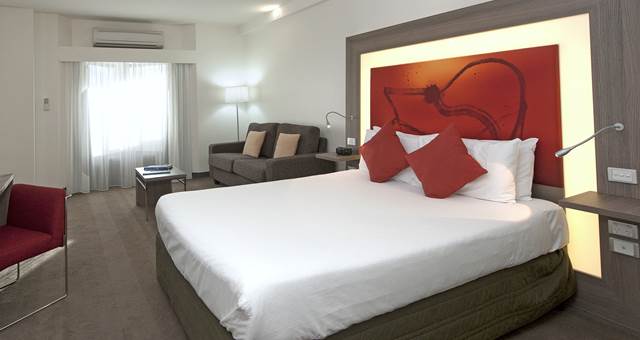 The new Next guestrooms at Novotel Darwin Atrium
Accor's Novotel Darwin Atrium hotel has undergone a guest room refurbishment just  in time to celebrate its 26th birthday.
Novotel Darwin Atrium general manager Ajay Vaid said, "The Novotel is already one of Darwin's favourite hotels with a great location overlooking the water, but our recent next guestroom update has provided a welcome update and new design that we hope will re-humanise the travel experience and reenergise our guests," he said.
Novotel Darwin Atrium now offers the Novotel Next generation room concept bringing it in line with Accor's benchmark properties around the world. The brand is aiming to have all 400 Novotel hotels and resorts in 60 countries featuring the design by 2018.
Features of the Next guestroom include a move to open plan, a contemporary colour scheme, a new bed head design, new beds and bedding, connectivity for portable Apple devices, 36" televisions, a variety of lighting.
Vaid said, "We've adopted the concept in Darwin with modern decor and clever use of colour to give an overall impression of spaciousness and freedom of movement. By incorporating Novotel Next use of the colour red into our rooms, we've not only injected new energy into each space, but reflect the iconic shade travellers so often associate with the Northern Territory's outback region."
Novotel Darwin Atrium has 140 guest rooms, conference facilities for up to 110 people and is located on the Esplanade overlooking Darwin Harbour.