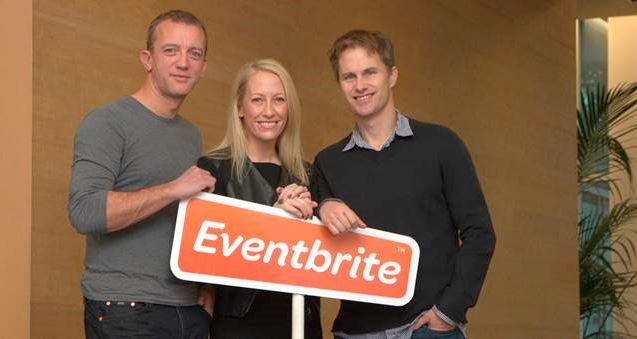 Eventbrite founders Renaud Visage, Julia Hartz and Kevin Hartz
Two weeks out from the launch of its reserved seating ticketing product, self-service ticketing platform Eventbrite has launched an Australian office.
Eventbrite president Julia Hartz told SpiceNews that the company chose to launch in Australia because of the strong results that have historically come out of this market. Hartz said, "We made four per cent of our total revenue [$40 million] from Australian ticket sales last year. 40 per cent of that came from Sydney and Melbourne so that's why we decided to create a local presence."
Eventbrite CEO Kevin Hartz said, "Eventbrite is about bringing people together through live experiences, and we are thrilled to officially plant roots in Australia and support the local community here on the ground. We have seen incredible growth in this region on Eventbrite — especially around obstacle and endurance events like Tough Mudder, bubble, colour and zombie runs, electronic dance music festivals and food-related events like mushroom growing and fermenting workshops."
The company, that has recently launched offices in Dublin, London and Mendoza, Sao Paolo and Nashville, is set to launch a product upgrade that allows organisers the opportunity to differentiate between ticket classes. Previously only able to issue general admission tickets, the new Eventbrite product will allow organisers to create reserved and VIP ticketing in their venues and at their events.
Kevin Hartz said, "This means that you can vary the price of tickets at fundraising events, for example. If someone wants to sit on a table with the politician or celebrity, you can adjust the ticket price accordingly."
To further compound its local presence, Eventbrite has purchased the customer base of a local ticketing company, GreenTix. As of today, GreenTix will transition its customers to the Eventbrite platform.